La Pinta Cruise Lan Ha Bay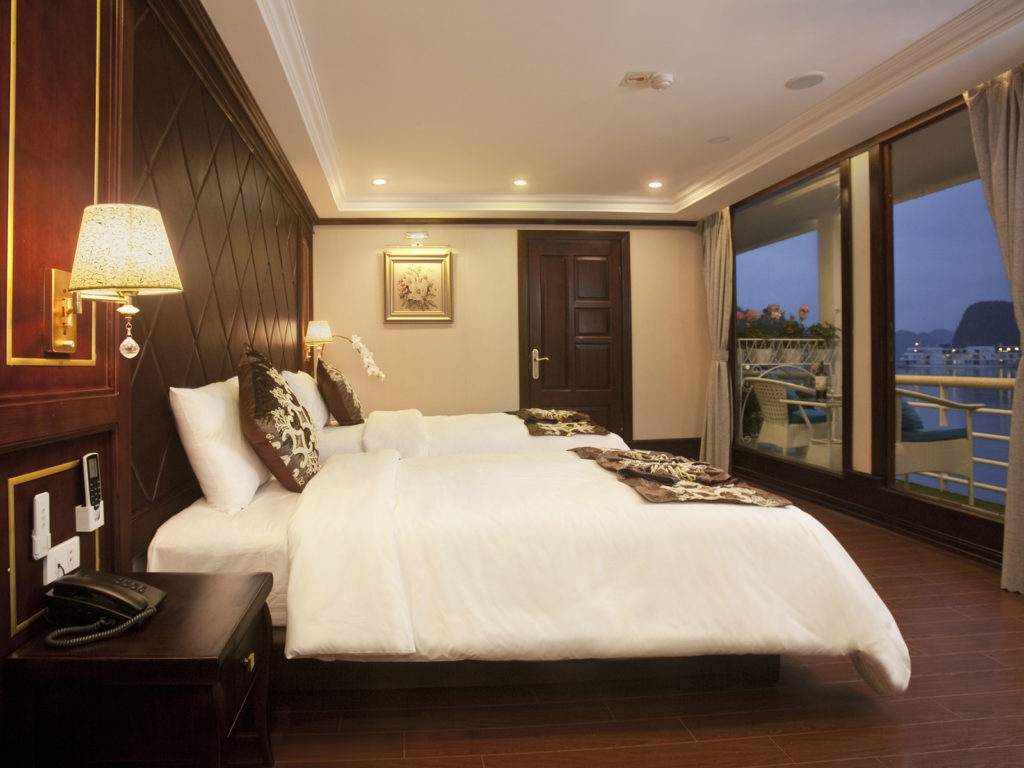 Sailing along and around Lan Ha Bay becomes more and more exciting on the 4-star luxurious cruises, and La Pinta Cruise is one of the best escorts for your absolute safety and comfort. The lovely upscale vessel will bring you to the untouched corners of the pristine Bay which appears to as beautiful as, yet less busting than the very-famous Halong Bay. The luxurious and peaceful voyage might serve as your best mood booster.
About La Pinta Cruise
Launched in April 2018, La Pinta Cruise is the mid-size 4-star cruise with 16 cabins (from 34m2 to 68m2); each has a private balcony for feasting eyes on awesome vistas. While the exterior of the Cruise looks splendid, its interior is ample and well-decorated for kinglike accommodation; or, you can call it the 5-star mini resort that is floating. It's not by luck that the cruise gets voted 5 stars, and it is not by chance that couples and families keep writing excellent comments about it. It is the luxury accommodation of 16 ocean-view cabins that make the trip worth every-dollar-and-cent.
The amenities onboard are for a top-notch overnight stay that you enjoy dining, relaxing, playing, and sleeping; every second passes nicely and you're in a happy mood. Some of the eminent services are swimming pool, body massage, 24-hour bar, and cooking class that can enhance your delight and keeps you entertained on board. The first steps that you enter your cabin, you will be amazed at the furnished and splendid accommodation in almost every detail.
La Pinta Cruise Itinerary
La Pinta Cruise Itinerary commits itself to the new route of Lan Ha Bay that you can go vacationing 2 days 1 night or 3 days 2 nights. Besides, the cruise is open for unique and tailored programs to meet guests' preference. La Pinta Cruise combines some hours across Halong Bay with the major vacation in the peaceful Lan Ha Bay. Let's see how it will be going.
Day 1: Hanoi – Hai Phong – Halong Bay – Lan Ha Bay (L/D). Around 09:00 – 09:30 AM, the pick-up La Pinta Limousine will take you from Hanoi to Hai Phong on the expressway. You will arrive at Got pier in which the nice crew is waiting to welcome you with drinks, and then a cruise safety introduction. Enjoy lunch while feasting eyes on the scenic canals and islets of Da Chong (Stacking Stones), Con Vit (Duck Islet), and Gia Luan village (Cat Ba). You will spend the afternoon to explore Trung Trang Valley and Trung Trang Cave in the middle of Cat Ba Island. There will be also time to visit Tra Bau for swimming and kayaking. Later, relax on this 5-star floating hotel; also, join the cooking show if interested.
Day 2: Lan Ha Bay – Hanoi (B/Br). The relaxing morning with fresh air, majestic sunrise, and the nice view of local fishing life will be followed by an explorative trip on the bamboo boat to Bright and Dark Cave (Hang Sang Toi). Then, get back to the cruise for farewell brunch, pack your stuff for the voyage back to the harbor. In the meantime, enjoy photo hunting as the cruise peacefully sails across many islands and islets of Lan Ha Bay and Halong Bay.
With the 3 days 2 nights La Pinta Cruise Lan Ha Bay package, you are, of course, have more time to explore Viet Hai fishing village, Da Chong Islet, Cat Ba National Park – Trung Trang Cave, Cua Van area, Ba Trai Dao Beach, Tra Bau area, Van Boi Beach, Ba Ham Lake, and Bright & Dark Cave. Take it easy to directly work with the tour agent on the details. Also, you can tell them what you prefer for Lan Ha Bay Cruise Itinerary, tailor it, and countdown the days to your maiden Lan Ha Bay vacation on La Pinta Cruise (named after the explorative ship of Columbus crew).
I love traveling and have been working in tourism industry since 1996. Vietnam is my homeland so I would like to share with you my experience to discover this destination best!