O'Gallery Lotus Cruise Lan Ha Bay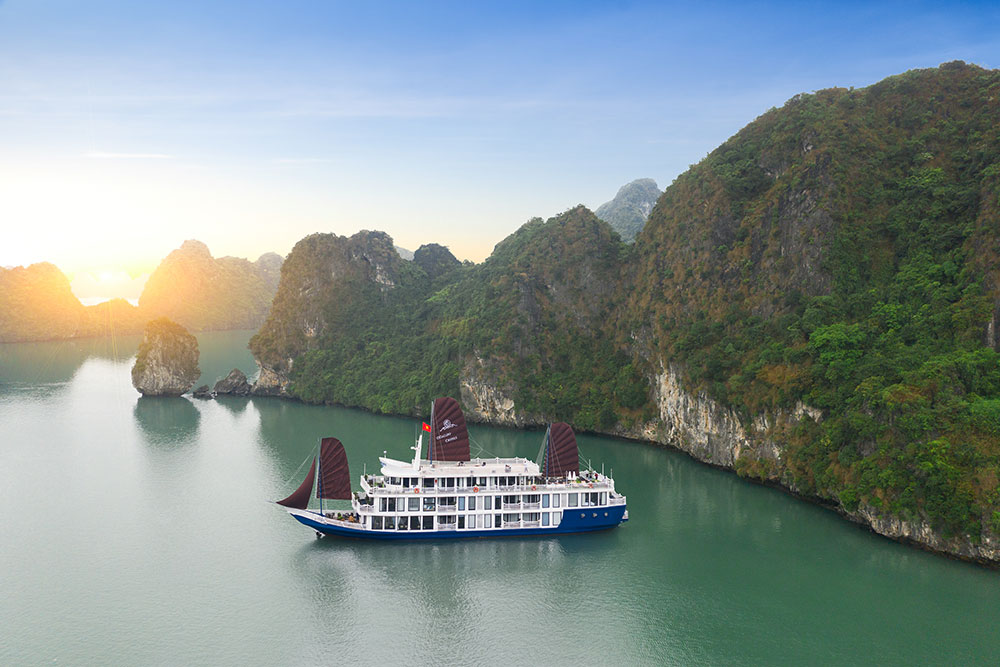 Once described as "a fairyland on the earth" by a famous poet Nguyen Trai, Lan Ha Bay is the perfect natural destination for cruising, and the 5-star O'Gallery Lotus Cruise Lan Ha Bay is the top boat to travel to perfection. The sense of comfort and luxury on this splendid cruise might be the things you need for the best sailing, along with the captivating seascape.
O'Gallery Lotus Cruise in Lan Ha Bay Vietnam
Launched in January 2019 and inspired from "lotus d 'orient" – a flower with perfect aroma and color, symbolizing wisdom and compassion, the 5-star O'Gallery Lotus Cruise itself looks elegant, ritzy, and impressive. While the cruise is moving its way on the calm water, it is like the lotus floating amid the fairy scenes. As the leitmotif of this site is "Lotus," you are likely to see the lotus theme in decoration of the reception, restaurant, cabin exterior, floor, and ceiling. This is the unique character of this boutique boat. Combined with the lotus-themed details are the modern furniture and convenient facilities in each cabin & suite.
The theme of Lotus is also inserted in naming the cabins and suites. You can opt for Royal Lotus Suite (55 sqm), Wild Lotus Family Suite (70 sqm), Jade Lotus Suite (35 sqm), or Wild Lotus Suite (35 sqm). Again, each is beautifully adorned with the lotus images and other elegant elements. Experiencing the services onboard, make sure you check the Mud Spa, the Pond Bar, and the Leaf Restaurant. Other fun activities include Tai Chi exercises, swimming, kayaking, squid fishing, visiting floating villages, and cooking classes. And upon request, you can benefit from OHG Luxury Van (8 seats) which takes you to Got Ferry (Hai Phong) from Hanoi, Halong, or Cat Bi Airport.
O'Gallery Lotus Cruise Lan Ha Bay Itinerary
This brand-new 5-star cruise in Lan Ha Bay offers the top-notch level of customer services and tours resulting in the incomparable cruising of 2 days 1 night or 3 days 2 nights, which you are sure to stay happy. The itinerary is not made to duplicate with any other; rather, it's made to be distinctive, smart, and memorable. Take a look at the O'Gallery Lotus Cruise Itinerary for 2 days 1 night below.
Day 1: Hanoi – Hai Phong – Lan Ha Bay. The luxury limousine van will pick you up from Hanoi Old Quarters to O'Gallery Private Lounge (Hai Phong), taking around 2 hours. Enjoy a warm welcome onboard of O'Gallery Lotus Cruise with tea and towel (cold or warm), listen to cruise briefing, and then check your room. You will then have lunch on board while it's cruising to the top attraction in Lan Ha Bay: Dark and Bright Cave. After the exciting cave discovery, return to the boat for the 'Happy Hour" program at the bar, pamper yourself at the spa, or even learn the how-to at cooking class. After dinner, it's a good time for squid fishing or Vietnamese classic movies.
Day 2: Lan Ha Bay – Hai Phong – Hanoi. Be an early riser who enjoys morning meditation on the sundeck. Extend the joy by outdoor workouts of kayaking and swimming when it's sailing to the beautiful Tra Bau area where has marvelous beaches and amazing serenity. After hours of freedom and pleasure, get back on board to complete the check-out procedure and have brunch. Disembark and head to O'Gallery Private Lounge in which the limousine van will bring you back to Hanoi.
For the 3-day and 2-night itinerary, the joyful experiences can extend much worthily as you will enjoy eco-cycling and trekking tours to Viet Hai Village on the second day. This is an ancient fishing village in the area, which remains peaceful, charming, and green. What's more, there will be opportunities to admire Ba Trai Dao beach that is best for swimming and kayaking.
Pictures and videos about Lan Ha Bay cannot fully describe the beauty and serenity that this natural destination is blessed with. So if you want to set sail for it, O Gallery Lotus Cruise is happy to serve.
I love traveling and have been working in tourism industry since 1996. Vietnam is my homeland so I would like to share with you my experience to discover this destination best!