If you budget for a cruise holiday, let us draw your attention to top budget cruises in Lan Ha Bay. While budgeting is a smart way to spend certain amounts of money for the good-enough vessel, the options of Cat Ba Sisters Cruise, Cat Ba Ocean Cruise, and La Pinta Cruise make sure that your decision to this alternative cruising route is smart, indeed. While the destination is charming, peaceful, and green, the cruises promise the cozy and enjoyable relaxation aboard. It's not about luxury here; rather, it's about a cozy and happy voyage.
#1: Cat Ba Sisters Cruise – Best Adventure Budget Cruise in Lan Ha Bay
This is the 3-star wooden junk that stands out as a smart choice for your budget voyages. If the budget fairly agrees to pay for a holiday on a vessel, think of Cat Ba Sisters Cruise Lan Ha Bay, which is cozy and relaxing, with the well-trained and friendly crew. With this affordable option, you can choose to stay overnight in the Family Suite Sea View or Deluxe Sea View, with the standard facilities of wardrobe private bathroom, large bed, sundeck, and restaurant. This ship mostly operates in the areas of Cat Ba and Lan Ha Bay, which are untouched and bustle-free.
The wooden junk also takes good care of your entertainment by a variety of activities like kayaking, squid fishing, snorkeling, and mountain climbing. You're likely to relish the beauty of Monkey Island, Ba Tra Dao Beach, Twin Beach, Hang Ca Area, and Cat Ba National Park. Especially, the mealtime is nice, with Asian dishes, Halal food, and vegetarian choices. Oftentimes, this budget cruise runs the "price-cannot-be-better" discount programs to increase booking. You will pay less but get more.
>> Read More about Cat Ba Sister Cruises Lan Ha Bay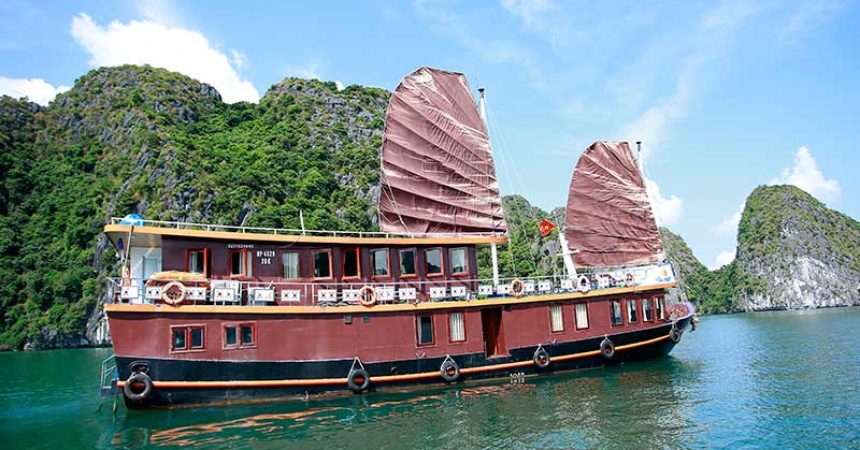 #2: Cat Ba Ocean Cruises – Several Choices for Family to Lan Ha Bay
Sometimes, you just don't need to sleep on the "bed of roses" to feel happy. If you agree, get to know the 3-star Cat Ba Ocean Cruises – another recommendation for budget Lan Ha Bay cruise tours. In the playfield of the budget junks, Cat Ba Ocean Cruises Lan Ha Bay is famous for the smart itineraries that know exactly what guests like and what are the most flattering corners of the area.
The plurals in the name of this brand denote that it is the budget junk family including the wooden Cozy Cruise (the latest member, launched in July 2019), Dai Duong 6 (Ocean 6, launched in 2017), Dai Duong 7 (Ocean 7, launched in 2017), Dai Duong 8 (Ocean 8, launched in 2017), and Dai Duong 9 (Ocean 9, made known in 2016). All these members are wooden, Vietnamese-style, with basic facilities of the dining room, mini-bar, kitchen, and sundeck. The notable sites of Ba Trai Dao Islet, Turtle Islet (Hon Rua), Bell Island (Hon Chuong), and Viet Hai fishing village are the top things to see during the trip; each place is dedicated to kayaking, cycling, swimming, and more.
>> Read More about Cat Ba Ocean Cruises Lan Ha Bay 
#3: La Pinta Cruise – First Choice for Group Charter to Lan Ha Bay
Want to set sail for this "hidden Eden" someday? La Pinta Cruise Lan Ha Bay will bring you there right today. Being the eminent escort for holidaymakers to the areas of Cat Ba and Lan Ha, this lovely vessel was just launched in April 2018, as the mid-size cruise with 16 cabins, of which each has a private balcony. Some people even call it the mini-hotel that is voted highly by excellent comments about the ocean view, well-equipped accommodation, swimming pool, body massage, 24-hour bar, and even cooking class. These keep you entertained aboard, either when you're out with the other attendants or alone in your own room.
The sailing itinerary of La Pinta seems more attractive than any other competitor at par. In particular, let's explore Da Chong (Stacking Stones), Con Vit (Duck Islet), and Gia Luan Village (Cat Ba), Trung Trang Valley and Trung Trang Cave, Tra Bau Area, Bright and Dark Cave, Viet Hai Fishing Village, and Ba Trai Dao Beach. One more interesting thing to know: La Pinta Cruise was named after the explorative ship of Columbus crew.
>> Read More about La Pinta Cruise Lan Ha Bay
Now, begin your Lan Ha Bay budget cruise, spend time to explore and get own memories!
I love traveling and have been working in tourism industry since 1996. Vietnam is my homeland so I would like to share with you my experience to discover this destination best!