Cat Ba Sisters Cruise Lan Ha Bay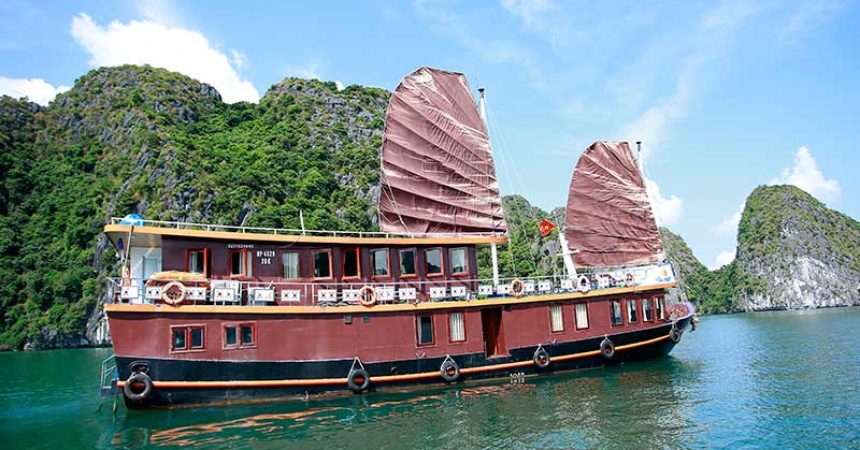 If budget fairly says yes for a cruise trip to Lan Ha Bay Vietnam, you can make it wonderful too by staying overnight on Cat Ba Sisters Cruise. This is the 3-star junk that provides a cozy, comfortable, and relaxing accommodation as well as relaxation on board for all passengers. The crew is so well-trained and supportive that helps you enjoy comfort throughout the voyage. While the pristine, stunning Lan Ha Bay remains serene and less touristy, it's smart to make it an alternative to the busy neighboring destinations.
About Cat Ba Sisters Cruise Lan Ha Bay Vietnam
Cat Ba Sisters Cruise is a small wooden junk, in which you can choose to stay in the Family Suite Sea View (35m2) and Deluxe Sea View (30m2) which are all well-furnished with sufficient facilities. The cabins are equipped with a wardrobe, private bathroom, spacious bed, and other basic items for cozy accommodation. This ship mainly runs in Cat Ba and Lan Ha Bay routes, which takes you to the untouched areas of the natural landmarks, away from the tourist crowd.
Cat Ba Sisters Cruise Lan Ha Bay offers the water sports facilities that upon your arrival at the destinations, it's wonderful to enjoy kayaking, mountain climbing, squid fishing, snorkeling, etc., in not only Cat Ba Island but also Lan Ha Bay and Monkey Island (Dao Cat Dua). Also, make sure you swim in Ba Trai Dao Beach. Other times, you can just access the sundeck for calm moments. Eminent services on board include the nice dining in an in-hour restaurant that serves Asian dishes, Halal food, and vegetarian food. Another strength is the "price cannot be better" which opens the opportunities for a budget-yet-very-enjoyable vacation.
Cat Ba Sisters Cruise Itinerary in Lan Ha Bay
Aiming to take guests to the untouched corners of Nature, Cat Ba Sisters Cruise Itinerary also draws its focus on Cat Ba Island, Lan Ha Bay, and Monkey Island, which are all pristine and breathtaking. The junk is open for the 3 days 2 nights program which covers the following highlights for your consideration.
Day 1: Hanoi – Hai Phong – Cat Ba Island (L/D). Upon your arrival to Cat Ba Island (from Hanoi via Hai Phong City), head to Beo pier from which you will embark Cat Ba Sisters Cruise, around noon. Complete the check-in procedure and briefing about the cruise, enjoy the welcome drink, and have lunch. You will sail along Monkey Island, Twin Beach, and Ben Beo Floating Village. Other things are to kayak around Hang Ca Area, swim in Ba Trai Dao Beach, do sightseeing until the time to get back to the junk for happy dinner at Sea View Restaurant.
Day 2: Lan Ha Bay – Monkey Island Resort (B/L/D). Rise early to do healthy Tai Chi practice on the sundeck as well as the beautiful sunrise. Attractions today are the local fishing farm and house for cultural experiences and getting to know the local lifestyle, and do more kayaking time in the spectacular Lan Ha Bay. In the afternoon, get a transfer to Monkey Island Resort where you will lay your head tonight. For the next hours, you can rest in your room, or take a self-guided hiking trip to the observation tower (easy trail) and mountain trail (hard hike) for the panoramic view of Cat Ba National Park and Lan Ha Bay.
Day 3: Monkey Island Resort – Hai Phong – Hanoi (B/L). You will have a free morning in the resort. Then, take a scenic voyage back to the pier from which you will drive to Hanoi.
The 3-day program might change a bit that you will have one night in Cat Ba Eco Lodge. There are other options of the Lan Ha Bay Tour 1 day or 2 days 1 night according to your preference. All in all, get sailing experiences in Cat Ba Sisters Cruise in Lan Ha Bay of 3 stars, then tell us how it is going!
I love traveling and have been working in tourism industry since 1996. Vietnam is my homeland so I would like to share with you my experience to discover this destination best!