Cat Ba Ocean Cruise Lan Ha Bay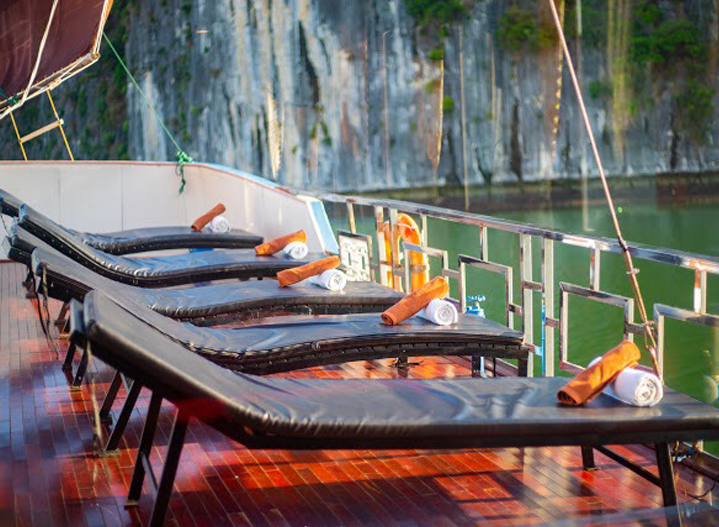 In the playfield of the 3-star cruises for sailing Halong Bay, Cat Ba Island or Lan Ha Bay, Cat Ba Ocean Cruise Lan Ha Bay is the outstanding and competent competitor to vote in the top list. This cruise brand knows what is beneficial for tourists and what are the best natural attractions, or what are the most photogenic corners. It's definitely good to know about this junk family, and you can benefit from them.
About The Family of Ocean Cruise Lan Ha Bay Vietnam
First, Cozy Cruise is the latest member of the Cat Ba Ocean Cruises family, and it came to life in July 2019. The exterior of this junk is designed as the Vietnamese traditional boat decorated with the color of wood and bamboo. It offers a friendly and modern look. Getting inside the cozy accommodation, you'll be pleased with the distinctive decoration, wooden walls, lacquer tables, etc., which result in comfortable and beautiful cabins.
Second, Dai Duong 6 (Ocean 6) was built in 2017, with 02 cabins for a maximum capacity of 06 adults. The junk is made from wood for the chic and homey overnight stay. Services of the dining room, mini-bar, and sundeck will support your entertainment and comfort on board. Whenever you feel like sightseeing the majestic seascape and infinite sea panorama, just head to the sundeck.
Third, Dai Duong 7 (Ocean 7) was launched in 2017, with 07 cabins (05 deluxe cabins and 02 superior cabins) that can accommodate a maximum of 19 passengers. The wooden junk is equipped with an upper luxury dining, relaxation area, kitchen, and spacious sundeck. Its interior is adorned in a traditional and boutique style. The large windows are made for the stunning sea view.
Fourth, Dai Duong 8 (Ocean 8) was born in October 2017, with 04 cabins that share the highlights with other sister cruises, like the wooden construction, well-furnished cabins, traditional decorations, Vietnamese friendly look, and more.
Fifth, Dai Duong 9 (Ocean 9) was introduced in 2016, with 03 cabins for a capacity of 09 passengers. This is a wooden junk that is friendly to nature and sails smoothly on the sea to bring guests comfort, safety, and sweet memory. Highlights of the dining room, mini-bar, sundeck, large bed size, etc., bring this cruise lots of good comments.
Cat Ba Ocean Cruises Itinerary in Lan Ha Bay
The five junks of Cat Ba Ocean brand are dedicated to the packages of 2 days 1 night or 3 days 2 nights. Besides, the packages of 2D1N or 3D2N can include the cycling trip in Viet Hai Village. It is just easy to send your message to the cruise operators and receive their feedback on your tailored programs if any.
Here is how Cat Ba Ocean Cruises Itinerary 2 days 1 night is like.
Day 1: Beo Tourist Wharf – Lan Ha Bay. Arrive at Beo pier around noon, you will embark the junk of Cat Ba Ocean Cruises to start sailing to Lan Ha Bay. Expect to sail around and along the fishing village, and then the untouched charming areas of the Bay until a happy stop at Ba Trai Dao beaches. Take time sightseeing the scenery, swimming, and kayaking. After some hours, you will return to the junk and relax on board. Make sure you watch the magical sunset and then enjoy the night activities.
Day 2: Halong Bay – Lan Ha Bay – Cat Ba Island. Enjoy being an early riser today for sunrise watching, fresh air, and light breakfast. Cruise to the area of Vung Kiem Lam for more kayaking opportunities and discovering the tunnel-like grottoes that are hidden and mysterious. After the natural discovery, return the junk for a voyage back to Beo tourist wharf by noon.
The other packages can be customized or added with a visit to the ancient Viet Hai fishing village for a cycling trip. Let's experience Ocean Cruise Lan Ha Bay soon!
I love traveling and have been working in tourism industry since 1996. Vietnam is my homeland so I would like to share with you my experience to discover this destination best!