Aspira Cruises Lan Ha Bay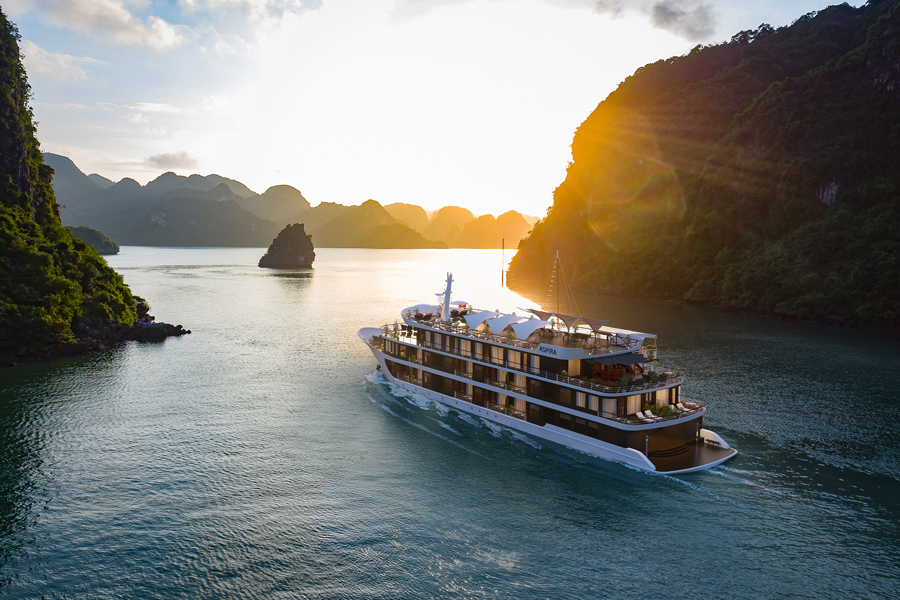 If you are yearning for a luxurious voyage with high expectations, select Aspira Cruises Lan Ha Bay, which is a white construction floating beautifully amid the scenic seascape. Regardless of whether you have read about any other vessels or not, this cruise is an excellent escort to take you on the off-the-beaten-track and gorgeous Bay for a full discovery.
About Aspira Cruises in Lan Ha Bay Vietnam
Soon be launched from February 02, 2020, Aspira Cruises is the innovative 5-star cruise offering the very attractive opening price. The promotion programs have been running and could attract passengers, who will only pay USD150/person to get onboard this white luxury. This is the 4-deck vessel as follows:
The basement covers the wine cellar and cigars, public restroom, compartments and community rooms for crew, and kitchen area.
The first deck includes the reception-public restroom, massage and spa, and 10 Junior Suites (with private balcony).
The second deck has 02 Executive Suites (with private sun terrace), 02 President Suite, and 08 Senior Suites.
The third deck consists of the public restroom, dining room, panoramic bar, sun terrace, and gym.
The fourth deck has the sundeck, jacuzzi, and mini-golf course.
Some top activities to please guests include Tai Chi exercises, spa, gym, massage, relaxing therapy, facial care, swimming pool, and cocktails at the panoramic bar. Upon your access to the beaches, islands, and villages, there offers time for kayaking, swimming, cave discovery, and even cycling trip on the peaceful countryside road. The upscale cruise is dedicated to please holidaymakers who might hold aspiration for the best vacation on a vessel to sail along and around the "hidden Eden."
Aspira Cruises Lan Ha Bay Tours
The sailing itinerary ensures to discover the most breathtaking corners of the pristine Bay namely the Dark and Light Cave and Trung Trang Cave (Cat Ba National Park), and Viet Hai Village. The access to these highlights is subject to your chosen packages of the 2 days 1 night or 3 days 2 nights. Of course, the longer you stay, the more delightful the experience is both aboard and ashore. Not only being appreciated for the white luxury look, but Aspira Cruises is also ideal with the inspiring itinerary. The snippet of Aspira Cruises Lan Ha Bay Tours 2 days 1 night is as follows.
Day 1: Hanoi – Halong – Lan Ha Bay. You will take advantage of the pick-up and transfer from Hanoi Old Quarter to Tuan Chau Marina (around 2 hours). Enjoy a speedboat transfer to the luxurious Aspira Cruise. Complete your check-in while it's traveling to the captivating areas of Halong Bay. The foremost attraction is the Dark and Light Cave, in which you can do kayaking or take a bamboo boat trip to discover this limestone site. When being on board, marvel at the extraordinary sunset and unwind by swimming pool, Happy Hour deals, traditional cooking class, or even massage service. Then, you'll have a great dining time and extend this joy with music, drinks, squid fishing, movies, etc., until a good night.
Day 2: Lan Ha Bay – Cat Ba Island – Hanoi. The early risers will try Tai Chi exercise on the sundeck, just in time with the beautiful sunrise. Today, let's explore wild areas of Cat Ba Island and set foot on Trung Trang Cave where preserves age-old stalagmites and stalactites. Go for a tour around the Cat Ba National Park and mingle with the green jungle. Return to the boat, check-out, have brunch, and goodbye.
With Aspira Cruises Lan Ha Bay 3 days 2 nights, you can extend the joy in cycling through Viet Hai Village for cultural experiences. It is your turn to reward your travels with pleasant time in the most scenic Lan Ha Bay as well as the top-notch onboard comfort. Aspira Cruises awaits you this 2020!
I love traveling and have been working in tourism industry since 1996. Vietnam is my homeland so I would like to share with you my experience to discover this destination best!