Peony Cruise Lan Ha Bay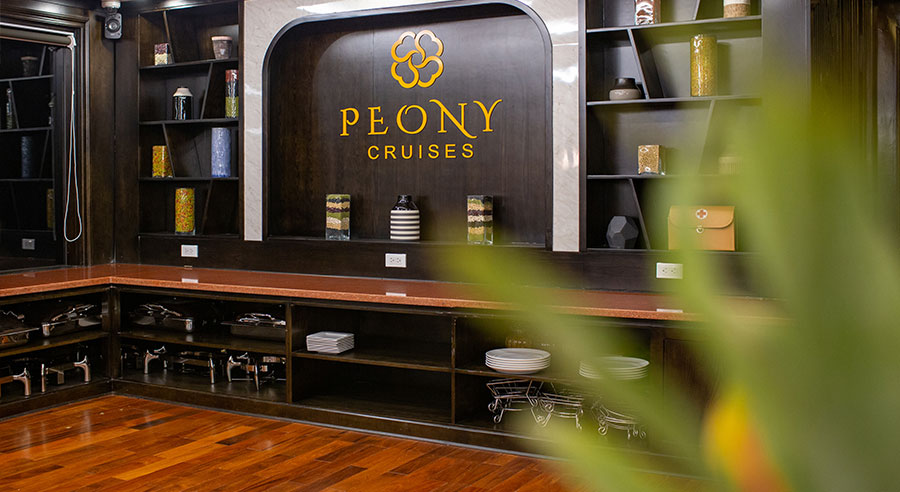 There is simply no better way to visit Lan Ha Bay than on a luxurious cruise, and Peony Cruise Lan Ha Bay is one of the best options to go with. This boat is named after "peony" – an important kind of flower in Eastern culture that symbolizes honor and wealth, which is also called "the queen of flowers." In that sense, the Peony Cruises can inspire and ensure the great sailing time in Halong Bay and Lan Ha Bay which are all breathtaking themselves while the onboard accommodation is ultimately comfortable.
About Peony Cruise Lan Ha Bay Vietnam
First launched in October 2018, the 4-star Peony Cruises looks like a big red peony flower on the sea, of which each cabin likes a palace for the prestigious passenger. Each cabin is well-furnished and large, with the private balcony and panoramic view. This cruise line sails smoothly in Halong Bay and Lan Ha Bay with the top-notch level of customer services and incomparable relaxing settings. You can opt for the cabin of 25m2, 45 m2 or 50m2, and there is a total of 20 cabins to accommodate.
Its facilities include a restaurant, spa, bar, comfy benches that meet the highest quality and dedication in each detail. When you are using the services, you will feel like the queens and the kings of the pristine peaceful world – your own world. The cruise itinerary is also a score, which you access the most outstanding attractions scattered across the Bay and enjoy free beautiful time on the most beautiful beaches via various water activities. Expect to try fishing with the local people and gaining as many cultural experiences as possible.
Peony Cruise Itinerary in Lan Ha Bay
"The distinctive voyage" is what Peony Cruise Itinerary can promise holidaymakers who might want to stay away from urban bustle and hustle. Especially, the voyage to Lan Ha Bay is not only different but also serene and spectacular that you keep affirming that you make a great decision. The program can take place in 2 days 1 night, or 3 days 2 nights, or upon your tailored requests. Often, people choose the common option of 2 days, and here is how it looks like.
Day 1: Hanoi – Hai Phong – Halong Bay – Lan Ha Bay (L/D). Take a pick-up service from Hanoi to Got pier (on Hanoi – Hai Phong Expressway). Around noon, you will arrive at the pier to embark the speedboat moving to the Peony Cruises that is anchoring to wait for you. You will pass the Cai Trap canal for the nice view. Getting onboard to begin an excursion of Halong Bay – Lan Ha Bay. The to-see attractions include Da Chong Islet, Duck Islet, Gia Luan Islet, Cat Ba National Park, Thoi Quyt Area, Cua Van area, etc., and then you get to Ba Trai Dao Beach. When you're back, enjoy the cooking class, Happy Hour bar time, yummy dinner, night squid fishing, movie, and more.
Day 2: Lan Ha Bay – Hanoi (B/L). Begin a day with healthy Tai Chi practice on the sundeck and inhale the freshest air ever. The cruise will proceed to Dark Cave & Light Cave that you will self-discover it on a bamboo boat. After this outdoor activity, get back to the cruise to pack your things, sunbathe, or just enjoy the serenity of the area while the cruise sails back to the Got pier.
For the more-day itinerary like 3 days 2 nights, of course, you will have more time and more valued experiences in Kim Giao Forest, Trung Trang Valley, Trung Trang Cave, and other eminent sites of this "Hidden Eden" just next to the world-known Halong Bay. And, note that it's possible to contact the tour agent and tell your tailored program of Lan Ha Bay Peony Cruise to see if they can make everything happen to please you.
I love traveling and have been working in tourism industry since 1996. Vietnam is my homeland so I would like to share with you my experience to discover this destination best!