Indochine Cruise Lan Ha Bay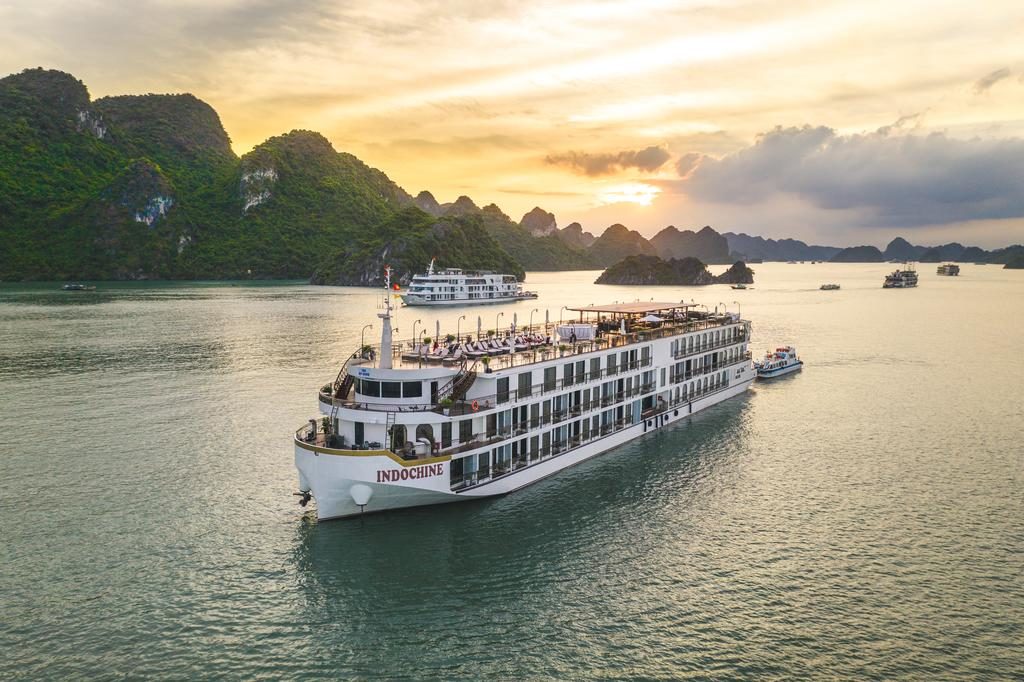 Let's see how easy cruising can be as you discover Lan Ha Bay on Indochine Cruise. This is one of the best escorts to guide you through pristine and beautiful highlights of Lan Ha Bay – just in the south of the celebrated Halong Bay. Indochine Cruise belongs to the same company with Indochina Sails that can surely streamline your vacation with almost everything from the convenient boarding to food and drinks on demand, so you have more and freer time to enjoy the spectacular sightseeing and do whatever you love.
About Indochine Cruise Lan Ha Bay Vietnam
Until June 2019, Indochine Cruise is the largest and newest cruise that serves overnight tours in Lan Ha Bay. The architecture details and decoration items on the 4-star cruise are so appreciated that they can describe the kinglike life of the noblesse of the Indochina region during the early 20th century. It is made from steel combined with other expensive materials to generate the "masterpiece" of 43 cabins (including Junior Suite, Suite, Executive Suite, President Suite, and Family Triple). All cabins have the synchronous and upscale decoration, particularly with the glass window and spacious balcony for optimal sightseeing. What's more, there are two upscale restaurants on the board, Cochinchine Lounge, fitness center, bar, spa & gym, etc.; each room has a seating area. It's fantastic to know that even weddings are celebrated on this 4-star vessel.
Services on the world-class Indochine Cruise are so professional and sufficient that might go beyond your expectation. Some of the best offers are the expedition to Van Boi Beach, kayaking, Tai Chi, Dark and Bright Cave, biking on Viet Hai village, squid fishing at night, Vietnamese food, and happy hours of wines, relaxing on the sundeck, and so on.
Indochine Cruise Itinerary in Lan Ha Bay
Indochine Cruise Itinerary varies a bit according to the program and duration of the tour (2 days 1 night, 3 days 2 nights, and chartered upon request). And, each option is designed to maximize tourists' experience. In general, it covers the trips to the traditional fishing village, island tour, and kayaking through caves in search of the isolated lakes. Besides, the onboard games from films to squid fishing are available to entertain guests at night. The next words will give you a glimpse of the 2 days 1 night Lan Ha Bay Indochine Cruise.
Day 1: Hanoi – Lan Ha Bay (L/D). You will enjoy the pick-up service from Hanoi to Tuan Chau harbor. Around noon, embark the Indochine Cruise for an explorative sightseeing trip of various islands and islets. During your lunchtime, the cruise will move deeper into the pristine Lan Ha Bay area – a new tropical paradise. You will select one of the two options for the 1st-day tour: Van Boi fishing village or Viet Hai fishing village. Yes, both are traditional, interesting, and spectacular. The next hours are for swimming, soaking in the emerald water, sightseeing, and photographing. Later, you can attend cooking sessions on board and have other fun until the good night's sleep.
Day 2: Lan Ha Bay – Hanoi (B/L). Practice Tai Chi and breathe the fresh air in the early morning. The cruise will then take you to Dark and Bright Cave (Hang Sang Toi) which is breathtaking, untouched, and mysterious. Take your time contemplating the scenic landscape of Lan Ha Bay. Around 11:00 AM, you will move to the speedboat back to Tuan Chau harbor followed by a drive back to Hanoi.
For the 3 days 2 nights Indochine Cruise Lan Ha Bay package, you are sure to be able to discover further and get more experiences; and remember that this lovely cruise can be chartered upon your request. Check the cruise updates for promotions or special offers! Enjoy all the beauty of Lan Ha Bay and more on Indochine Cruise.
I love traveling and have been working in tourism industry since 1996. Vietnam is my homeland so I would like to share with you my experience to discover this destination best!