Mon Chéri Cruises Lan Ha Bay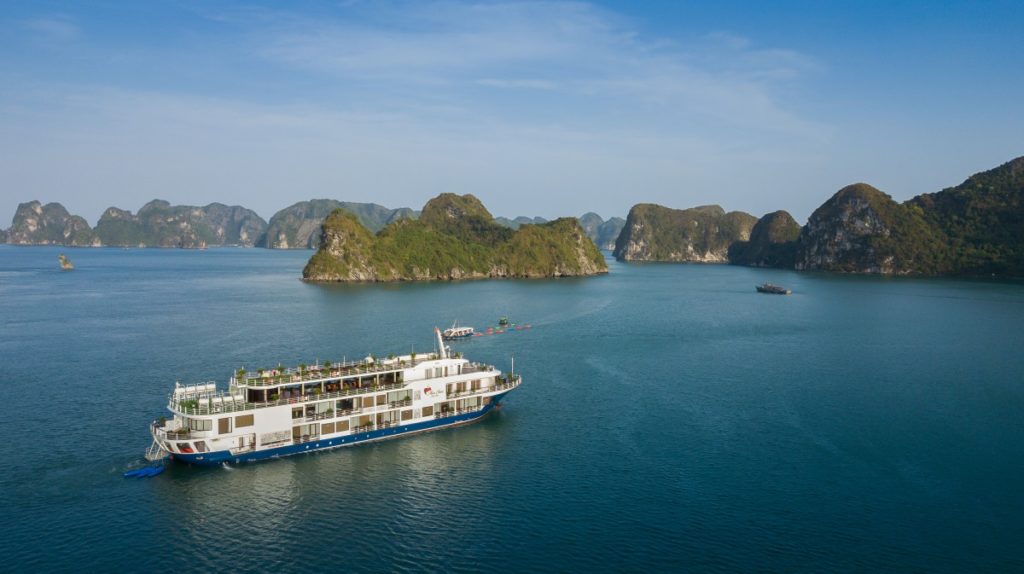 As long as Lan Ha Bay is still beautiful and green, there are splendid cruises bringing people to visit it, and Mon Chéri Cruises is one of the most luxurious options. In the 4-star luxury, this cruise is competent enough to serve high-end tourists who want to explore the pristine Bay in a praiseworthy way. Just located in the south proximity of Halong Bay, Lan Ha Bay is famous for nearly 400 islands and islets covered by greenery and 139 smooth-sand beaches, which make it a true venue to unwind. Some people even call it by a beautiful name "hidden Eden."
About Mon Chéri Cruises
Launched in August 2018, Mon Chéri Cruises is built and adorned according to the ideas to blend European elegant form with Vietnamese rustic style. This results in the 4-star elegant cruise standing out of the other elites in the playfield. It aims to serve the upscale tourists who will enjoy the large cabins with the open balcony, plus a variety of services and facilities made for their comfort. The decoration in each room will make you happily pleased at first sight. Perhaps, you find no point to complain about the look and feel of this ritzy entity. What's more, Mon Chéri Cruises Itinerary is new, smart, and special enough to take you to only the pristine and scenic spots of interest in Lan Ha Bay – a fantastic alternative to the glorious neighbor.
The cruise of Mon Chéri is designed with 18 spacious cabins; each has a private balcony for spectacular sightseeing of the emerald sea and the romantic Bay. The smallest cabin is 40m2 (Ocean Suite) and the largest one is 90m2 (President Suite Terrace). Other features include the deluxe restaurant with a rich menu, large sundeck, and world-class bar for a cocktail, and special food for Islam. This is proud to be the first and the only Lan Ha Bay Cruise that serves Halal food with Halal kitchen and Halal Certificate issued by Halal Vietnam Association. The professional service and knowledgeable staff are scores of this stylish "floating" hotel that guarantees all your pleasures.
Mon Chéri Cruises Itinerary
Embarking on this 4-star vessel, you experience hidden gems of Lan Ha Bay in 2 days 1 night or 3 days 2 nights as per your contact. A glance at the typical itinerary can help you draft your expectation about this sought-after Bay and its highlights.
Day 1: Hanoi – Lan Ha Bay (B/L). At 09:00 AM, the private Limousine car will transfer you from Hanoi to Got pier (Hanoi – Hai Phong expressway). Arriving at the pier around noon, you will be greeted by cruise staff who welcomes you on Mon Chéri Cruises. Then, cruise briefing and welcome drink first signal your excitement onboard. You will have lunch and enjoy sightseeing the famous Cai Trap canal. In the next hours, visit Dark and Light Cave (Hang Sang Toi) where owns one of the most beautiful beaches in the area. Swimming, kayaking or having explorative adventures on your own. Nightlife onboard is great with a cocktail, dinner, music, movie, etc.
Day 2: Cat Ba – Hanoi (B/L). Start the day with healthy Tai Chi practice on the sundeck, and then have breakfast. Next, take a bus transfer to Hospital Cave (Hang Quan Y) as well as the pristine nature of Cat Ba. You will then return to the vessel for a voyage back to the pier.
For the 3 days 2 nights, the itinerary varies a bit; that you will visit the antique Viet Hai fishing village and Van Boi Beach on the second day while the Hospital Cave is saved for the third-day tour. Moreover, it's wonderful that you can send your customized program to the tour agent who will adjust everything to meet your expectation. There's no better escort to guide you through bewitching Lan Ha Bay than Mon Chéri Cruises – the 4-star floating resort.
I love traveling and have been working in tourism industry since 1996. Vietnam is my homeland so I would like to share with you my experience to discover this destination best!