Cat Ba Sailing Junk Lan Ha Bay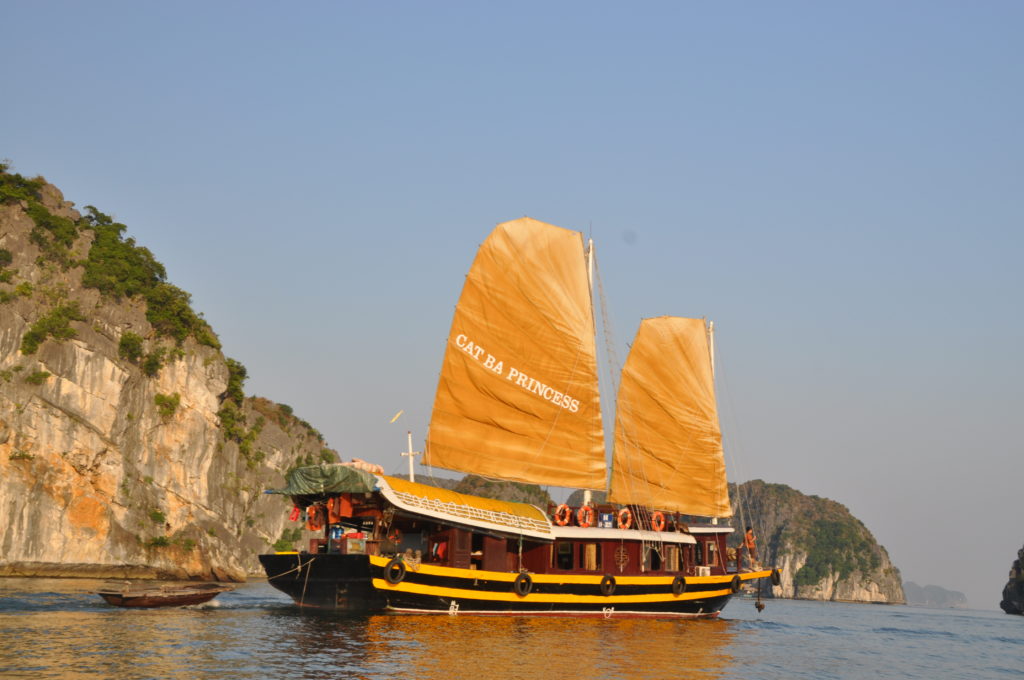 There are dozens of cruises sailing to Lan Ha Bay, but Cat Ba Sailing Junk (or Cat Ba Jonques) has a good reputation in the tourist forums that they recommend each other to experience. The collection of four junks namely Cat Ba Legend, Cat Ba Princess, Cat Ba Prince, and Cat Ba Imperial ensure you all to become a valued guest who has a happy time on board as well as the exciting escape on the off-the-beaten-track islands and the mysterious caves.
About Cat Ba Sailing Junk Lan Ha Bay Vietnam
There are four junks initiated with this "Cat Ba" brand, and each junk has its own highlights to meet the standards of 3 – 4 stars.
First, launched in 2009, Cat Ba Princess Junk is made for a voyage with family or a group of friends. It has 2 air-conditioned cabins of 14m2 that can accommodate a maximum of 6 adults. Other features include the entertainment and dining room, spacious sundeck, glass window for optimal sightseeing opportunities from your room. The junk has an elegant design "just like a princess" that is playing on the beautiful Bay.
Second, born in 2011, Cat Ba Prince Junk is designed for gentlemen and ladies who can get entertained at the mini-bar and the outside dining space. With more open spaces, this junk is open for various events and activities such as a birthday, anniversary, wedding photography, and more. Just like Cat Ba Princess, this "Prince" has 2 air-conditioned cabins of 12m2 with the maximum capacity of 6 adults.
Third, Cat Ba Imperial Junk was built in 2012, with 4 cabins of 11m2 decorated in a charming way for cozy accommodation. It can accommodate 12 people (8 adults and 4 kids) at the maximum. Other traits of entertainment and dining room and sundeck inspires the entertainment senses. This spacious junk is a perfect choice for family cruising trips.
Fourth, Cat Ba Legend Junk came into operation in 2010 as a user-friendly junk for all couples and small families. In the first place, this junk was named Indochina Sails but then renamed Cat Ba Legend. It has a capacity of 2 cabins of 11m2 that can accommodate 4 adults at the maximum. The deck, lounge, and dining room support your entertainment on board.
Cat Ba Sailing Junk Itinerary in Lan Ha Bay
The Cat Ba Sailing Junks are available for packages of one day, two days one night, three days two nights, or even the customized charter. Let's consider the overnight cruise on Cat Ba Princess 2 days 1 night so that you know what to expect for the sailing away from home or any other crowded places.
Day 1: Hanoi – Cat Ba. Upon your arrival at Hai Phong airport (recommended), the driver will pick you up and take you to the Binh ferry for a speedboat to Cat Ba Island. From there, continue the way to Beo pier for embarking the Junk where welcomes you with the drinks. It will sail around and along the fishing village, stunning Lan Ha Bay, and Ba Trai Dao Beaches in which it's fantastic to get soaked and try kayaking. In the next hours, it will reach the untouched areas of Ong Cam Bay; the junk will anchor for you to enjoy fishing until the nice dinner and relaxing nighttime.
Day 2: Halong – Hon Gai. The breakfast time will be followed by a discovery to the hidden cave in the area of CA tunnel. Then, the cruise will sail along the majestic Halong Bay, across the limestone formations, on the emerald water. Do the check-out and disembark at Hon Gai harbor for a trip back to Hanoi.
For other cruises of Cat Ba Sailing Junk Itinerary with more days and nights, contact the operators to get the exact packages and prices. You can also charter the junk for a private voyage if interested.
I love traveling and have been working in tourism industry since 1996. Vietnam is my homeland so I would like to share with you my experience to discover this destination best!