Dora Cruise Lan Ha Bay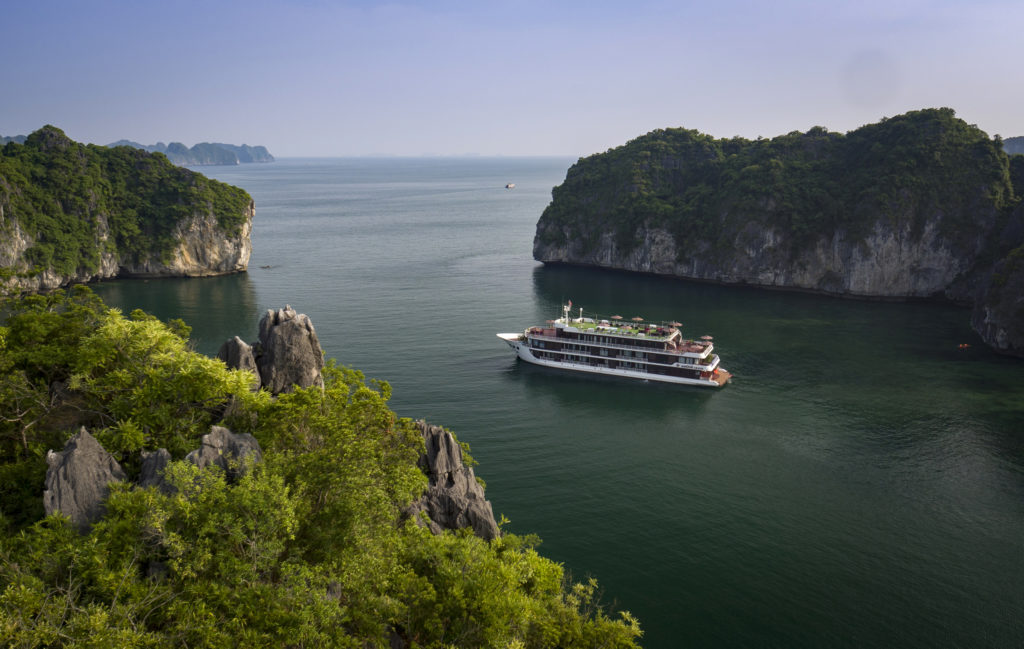 Being one of the eminent members of the 5-star cruise family, Dora Cruise Lan Ha Bay is a luxurious means of transport to sail and enjoy holidays amid the gorgeous sea. It offers a great choice of suites that can please honeymooners, individuals, and families who expect a happy overnight stay onboard, besides the exciting adventures of the pristine attractions.
About Dora Cruise in Lan Ha Bay Vietnam
Dora Cruise is an overnight 5-star vessel to perfectly sailing Halong Bay and Lan Ha Bay. It is featured with the modern cabins and suites with the private balcony for you to mingle with beautiful nature. The cruise owns 22 luxurious rooms fully-equipped to serve the tourists who can opt for the honeymoon suite, executive suite, family connecting suite, or junior suite triple/double. The wooden rooms and spacious beds bring a cozy atmosphere for relaxation, especially after outdoor activities. The soundproof walls secure your privacy and quietness while the windows connect you with the amazing sea breeze.
Other interesting services of the restaurant, spa and massage center, cooking class, squid fishing, movies, and Tai Chi practice add more fun and joy to the cruise trip. Just head to the terrace deck to welcome morning dawn or marvel at the starry sky at night. The experienced Dora Cruise is confident in their quality to keep pampering and making you the honored guests.
Dora Cruise Lan Ha Bay Tour Itinerary
One of the highlights of Dora Cruise Lan Ha Bay Tour is the ideal itinerary for the longest sea journey in comparison to the others. It runs tours of 1 day, 2 days 1 night, and 3 days 2 nights to the praiseworthy attractions in the areas of Lan Ha Bay and Cat Ba. Following is a snippet of the 2-day 1-night voyage on Dora.
Day 1: Hanoi – Halong – Lan Ha Bay. You experience the 2.5-hour drive transfer from Hanoi Old Quarter to Tuan Chau Harbor. Next, take a speedboat to access Dora Cruise and enjoy the welcome with drinks, cruise briefing, and safety instructions. Have lunch while it's traveling across the scenic corners of Halong Bay and past the Duck Islet, Thumb Islet, and Gia Luan Harbor. Go on exploring a natural lagoon in the area of Lan Ha Bay. Savor more swimming and kayaking opportunities in Ba Trai Dao beach. In the late afternoon, get back aboard and attend the Vietnamese cooking class. Have dinner and be cheered up with other entertainments like squid fishing, movies, or card games.
Day 2: Dark & Light Cave – Lan Ha Bay – Halong – Hanoi. Early risers enjoy morning Tai Chi practice as well as the stunning Bay view. Have breakfast, and then move to a transfer boat to access a little floating house in which you begin a bamboo boat trip to the Dark & Light Cave. The cave discovery will be flowed by the onboard relaxation when you're back on Dora and enjoy the cruising comfort. Complete the check-out steps, and then head to the restaurant for the buffet lunch. Upon return to Tuan Chau Harbor, you disembark and bid your farewell. Take a drive back to Hanoi.
Spend one more day and night to further discover Lan Ha Bay and its highlights via the Dora Cruise Itinerary 3 days 2 nights if the time and budget agreed. With the 3-day package, it covers the explorative trips to Viet Hai Village and Van Boi Beach, which are not only for the cultural experiences but also the joyful swimming and photography activities. As the luxurious 5-star Dora Lan Ha Bay will never fail to please guests, give it a chance to serve you and then you tell how. Be onboard Dora Cruise soon!
I love traveling and have been working in tourism industry since 1996. Vietnam is my homeland so I would like to share with you my experience to discover this destination best!