Doris Cruise Lan Ha Bay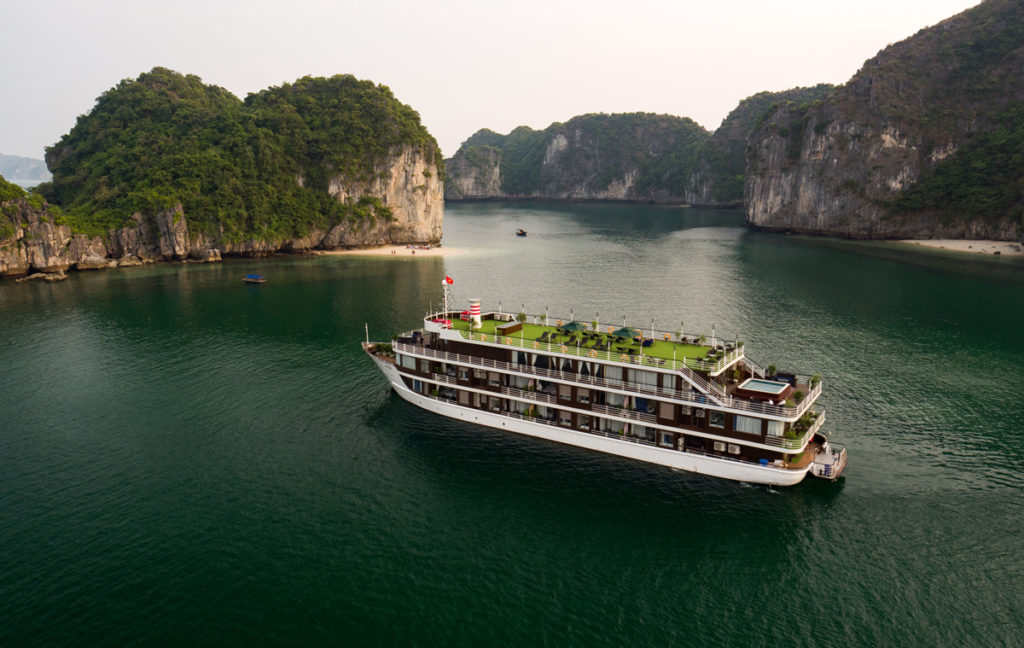 If you care about an outdoor swimming pool, private balcony, luxurious room, and exclusive sailing routes, then the 5-star Doris Cruise to Lan Ha Bay is indeed a long-sought property to sail with. In the playfield of luxury, this cruise is often present top and has the loyal patrons who love cruising on Doris whenever they demand a vacation amid the gorgeous sea.
About Doris Cruise in Lan Ha Bay Vietnam
This is the 5-star cruise proudly equipped with the professional swimming pool, private balcony in each cabin, and exceptional routes to the untouched attractions. Other highlights include the gym, spa, and restaurant serving European and Asian food. There is a wide choice of room types namely Junior Double Suite, Junior Twin Suite, Triple Suite, Family Connecting Suite, Executive Suite, and Honeymoon Suite. Again, all suites offer the boundless sea view and the private balcony for maximum sightseeing at any time of the day.
Also, Doris is in favor of tourists thanks to the smart itineraries of 1 day, 2 days 1 night, or 3 days 2 nights, which cover the top places of interest and relaxing activities. The single sailing along Lan Ha Bay is truly spectacular for the once-in-a-lifetime enjoyment, plus the visits to the scenic settings that stimulate swimming, kayaking, cave discovery, and cultural experiences in the placid village. Or, the comfort and pleasure aboard are praiseworthy
Doris Cruise Lan Ha Bay Tour Package
Smartly designed, the Doris Cruise Lan Ha Bay Tour takes you to the breathtaking sites of Ba Trai Dao Islet, Dark & Light Cave, Duck Islet, Gia Luan Islet, Viet Hai Village, and Van Boi Beach. It is perfect for anybody that wants to cherish the beauty of Nature and get unforgettable moments. When being amid the emerald sea, you will be impressed by the exciting voyages along and around the limestone towers. The beautiful vistas will become imprinted on the mind, happily. How does it go with the frequently booked package of 2 days 1 night? Here is a quick answer.
Day 1: Hanoi – Tuan Chau Marina – Lan Ha Bay. Experience the 2.5-hour drive transfer from Hanoi Old Quarter to Tuan Chau Marina (Halong city). Next is a speedboat transfer to the luxurious Doris Cruise. You'll be welcomed with drinks, cruise introduction, and safety guidelines. Rest in your room. During lunchtime, the cruise sails through Duck Islet, Thumb Islet, and then Gia Luan harbor (Cat Ba area). There will be plenty of time for discovering a natural lagoon, swimming, and kayaking at Ba Trai Dao Islet. Once your return onboard, be interested in the sunset party, cooking class, BBQ dinner, and other overnight entertainment (squid fishing, card games, chess, music, and even massage).
Day 2: Dark & Light Cave – Lan Ha Bay – Hanoi. Refresh with a morning Tai Chi practice and a gorgeous sunrise. After breakfast, go on exploring the Dark & Light Cave via a bamboo boat trip (or you can try kayaking). Being back aboard, complete the check-out steps and have buffet lunch. Upon your return to Tuan Chau Marina, say goodbye to Doris as well as the nice crew. Drive back to Hanoi in a limousine.
If you can schedule one additional day for the Doris Cruise Itinerary 3 days 2 nights, this extended package levels up the experiences in Viet Hai Village for peaceful cycling rounds. And, the relaxing time in picturesque Van Boi Beach encourages you to swim or play any other beach games. Choose one that best fits your schedule and budget so that vacation just goes best. Pack and sail with Doris Cruise Lan Ha Bay to see how this 5-star property values your days and nights off in a happy and exciting way.
I love traveling and have been working in tourism industry since 1996. Vietnam is my homeland so I would like to share with you my experience to discover this destination best!