Paradise Grand Cruise Lan Ha Bay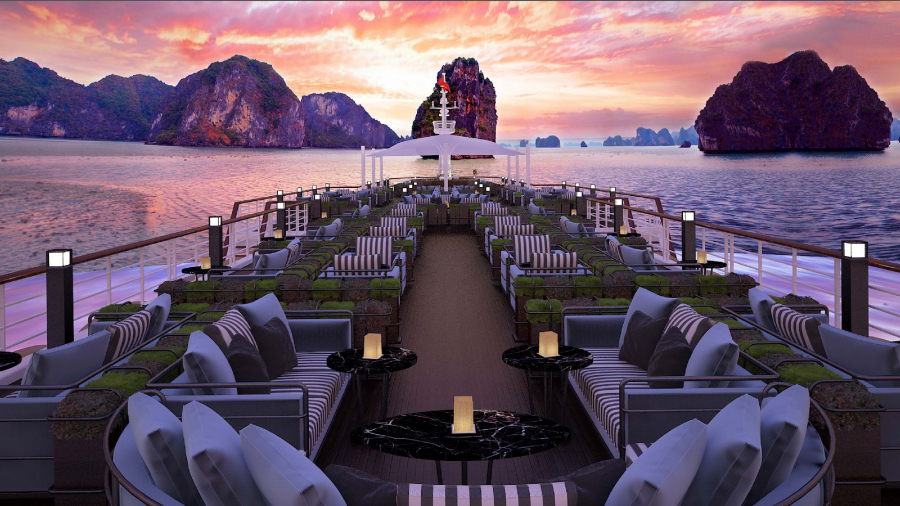 A white beauty of Paradise Grand Cruise Lan Ha Bay can illuminate the pristine, charming Lan Ha Bay, Cat Ba Island of Hai Phong Province. This luxurious and elegant fleet of vessels will be one of the best options to sail along and around captivating islands and islets. The life of luxury and comfort on this spacious steel cruise can please even fastidious passengers.
Top Facts about Paradise Grand Cruise in Lan Ha Bay  Vietnam
As scheduled, the modern steel boat of Paradise Grand I will be launched in January 2020 while Paradise Grand II will be in April 2020. Each vessel of Paradise feet has 39 cabins for a capacity of 78 occupants. You will be excited to select Grand Balcony (18 cabins, 28m2), or Executive Grand Balcony (17 cabins, 28m2), or Grand Balcony Suite (02 cabins, 35m2), or Captain's View Grand Suite (02 cabins, 35m2). The joy and fun onboard will be ample as you will be free and easy to enjoy any of 39 cabins equipped with private balconies and conveniently separated wall-in closets. Besides, other facilities of restaurant, bar, reading area, lounge, sundeck, spa, and especially Paradise Express High-speed Ferry can benefit you a lot. It also offers equipment for kayaking and squid fishing.
In regards to services, opt for cruise packages of 2 days 1 night or 3 days 2 nights or even upon charters. The itineraries will be likely to cover excursions of caves, Cat Ba National Park, and pristine islands. Oftentimes, pleasure can be perceived right on board by Vietnamese cooking class, coffee and tea demonstration, and live music. For outdoor programs, engage yourself in kayaking, swimming, trekking, or cycling. In the early morning, the sundeck will be happily serving your Tai Chi or Yoga practices. For wellness treatments, make sure you try massage and beauty care.
Paradise Grand Cruise Lan Ha Bay Itinerary
The innovative Paradise Grand Cruise will offer voyages of 2 days 1 night or 3 days 2 nights which fulfill your time off with fun, pleasure, and happiness. While Lan Ha Bay remains untamed, captivating, and lovely for the best sailing ever, two of Paradise Grand vessels can ensure your ultimate comfort and entertainment, which leaves no room to feel bored at all. For ideas about how a voyage on Paradise brand will go on fascinatingly, take a look at this quick summary of 2-day 1-night Paradise Grand Cruise Lan Ha Bay Itinerary below.
Day 1: Tuan Chau Island – Paradise Cruise – Lan Ha Bay highlights. Upon arrival at Tuan Chau Island, head to Paradise Lounge to get your cabin key. Next, get a transfer on a high-speed Paradise Express ferry to embark Paradise Grand in which you will listen to a cruise briefing and enjoy welcome drink. During the lunchtime on board, the vessel will sail toward stunning islands and islets of Lan Ha Bay. Take time sightseeing gorgeous Bay. Later, visit the top sites of Viet Hai fishing village, Van Boi Beach, or Three Peach Beach (Ba Trai Dao). Any of these attractions are worth exploring, so decide on what you want to see. Experience the nightlife onboard with Happy Hour in Piano Lounge, Vietnamese cooking class, and À la carte dinner.
Day 2: Dark and Bright Cave – Tuan Chau Marina. A light breakfast will be followed by the explorative adventure of Dark and Bright Cave. Experience a bamboo boat trip to discover corners of the cave and marvel at ancient stalagmites and stalactites on the ceiling. Next, get back to the cruise and have brunch while it is sailing to Tuan Chau Marina from which you will bid your farewell to the crew.
For the 3-day 2-night itinerary, it will vary a bit, covering more attractions on Cat Ba Island namely Trung Trang Cave, Tung Thu Beach, and Cat Ba National Park for the second-day tour. Any itinerary, Paradise Grand Cruise Lan Ha Bay will promise the best voyage ever that you can be confident to look forward to.
I love traveling and have been working in tourism industry since 1996. Vietnam is my homeland so I would like to share with you my experience to discover this destination best!