Are you looking for Best Lan Ha Bay Cruises? Vacation on a cruise offers excitement, pleasure, and freedom to explore natural islands, islets, caves, and even floating villages, which urge a need to sort out those of 10 Best Lan Ha Bay Cruises updated 2020. As a lovely little sister of the big famous Halong Bay, Lan Ha Bay is a smart route for vacationers who want a pristine, gorgeous haven. It is a new bustle-free overnight cruise tour highlighted with serenity, off-the-beaten-track captivating attractions, and comfortable cabins for tired souls to unwind and rejuvenate. Just opt for a perfect cruise to set sail for this "hidden Eden", stay overnight, and enjoy aboard entertainment.
Best Day Cruises in Lan Ha Bay
#1.Escape Sails Luxury Day Cruise in Lan Ha Bay
Another ideal option is Escape Sails, the top luxury day cruise toward Halong Bay and Lan Ha Bay. Receiving many excellent comments in TripAdvisor, Escape Sails day tour offers the short transit time, yet longer cruising associated with the warm welcome, and wonderful routes to the less-traveled but very spectacular destinations, and the wholesome safety aboard. This cruise is featured with the solid iron beams and wooden decoration for the balance between safety and beauty. The open, spacious sundeck can boost your relaxing moments and shared experiences. After the comfortable transfer from Hanoi to Got Ferry, you start enjoying the full-day itinerary of 8-hour cruising time. Expect for sightseeing of Da Chong Islet, Dark & Bright Caves, and the amazing Lan Ha Bay seascape. Choose either to kayak or take a sampan boat trip to access the mystic caves. Other things that contribute to the excitement aboard are the drinks, fruits, delicious food, cooking class, and sunset sightseeing. Staying onboard, you're granted with infinite opportunities to marvel at the scenic scenery, especially during the twilight. In the late afternoon, bid your farewell to the friendly crew. The day trip with Escape Sails is as inspiring as that.
#2.Tonkin Budget Day Cruise in Lan Ha Bay
Vietnam Tonkin Cruise is amongst the best day cruises in Lan Ha Bay (and even Halong Bay). Launched in May 2019, this steel cruise runs a day tour around some best attractions only in one day, including the opportunities for kayaking, swimming, cave discovery, etc., toward the pristine places. You even don't have days and nights just fall in love with the beautiful virgin Bay. The cruise is nicely equipped with the dining area, sunbathing zone carpeted by artificial green, and open balcony for the panoramic view. With Tonkin Cruise Day Tour, you'll enjoy 8-hour cruising. And before that, make sure to enjoy the pick-up service from Hanoi Old Quarter to Got Ferry. The day tour highlights include Da Chong Islet, many limestone formations, and pristine lagoons, Hoa Cuong Cave (Cat Ba National Park). Some activities to do should always be kayaking, swimming, and visiting the cave. When you're back on board, attend the cooking class session of Vietnamese spring roll, plus the sunset party with tea and fruits on the sundeck. In the late afternoon, it's time to arrive back to Got Ferry, and then Hanoi. The day tour with Vietnam Tonkin Cruise is full of enjoyment for sure.
>> Contact us to book Lan Ha Bay Day Tour!
Most Luxury Overnight Cruises in Lan Ha Bay
#3.Luxury Ylang Cruise in Lan Ha Bay
Ylang Cruise is a luxury art of Indochina design blended well with the serene seascape of Lan Ha Bay. Launched in December 2018, this is the latest luxury cruise of Heritage Line feet, which is featured with Vietnamese and French architecture. Some eminent characteristics include floral leitmotif inspired by local poetry and four seasons. There are many paintings and artworks around the vessel while each suite is represented by a flower of a season. You can opt for any of the 10 luxury suites on two decks, which are smartly designed to get full natural light via the panoramic windows and private balconies. The sense of luxury evolves through the upscale services of the spa, Tai Chi practice, meditation, library lounge, restaurant, bar, and pool. The attractive Ylang Cruise itinerary of "Senses of Lan Ha" will take place 3 days 2 nights that promise a memorable explorative voyage to the best attractions of Cat Ba Island, Viet Hai fishing village, Cat Ba National Park, and many other natural essentials. Note that the itinerary within Ylang will start from Heritage Line's welcome lounge at Tuan Chau Marina. There will be chances for swimming, kayaking, hiking, and sightseeing.
>> Check the most expensive Luxury Ylang Cruise 3 Days 2 Nights from $576!
#4.Luxury Heritage Cruise in Lan Ha Bay
Heritage Cruises is the 5-star expert in the list of the most luxury cruises in Lan Ha Bay for incomparable sailing experiences in stunning Lan Ha. This expert has been in the luxury playfield since 2004 and had a considerable number of patrons who appreciate the classic elegance, complete comfort, and the concentration on Vietnamese art and gastronomy. This splendid vessel is characterized by the upscale restaurant, spa, swimming pool, indoor-and-outdoor lounge, bar, library, gym, and 20 suites with the panoramic windows. Particularly, it's a must to relax at the White Lotus spa and gym or have cocktails, go to a swimming pool. The cruise brings you the well-deserved relaxation aboard, plus the wonderful boating and on-foot adventures in the designated attractions. This vessel is dedicated to the 2 days 1 night, 3 days 2 nights, and especially the unique 4 days 3 nights cruise tour. The 4-day package route is Halong Bay – Bai Tu Long Bay – Lan Ha Bay – Cat Ba Island. The itinerary covers attractions of Da Chong Islet, Ba Trai Bao Beach, Viet Hai Village, Ba Ham Lake, Dark and Bright Cave, Cat Ba Center, Trung Trang Grotto or Quan Y Cave, Lan Ha Floating Village. The recreational activities are diverse and amazing.
>>See details of Luxury Heritage Cruise 2 Days 1 Night from $237!
Best Lan Ha Bay Cruises for Family
#5.Five-Star Azalea Cruise for Family in Lan Ha Bay
As the 5-star ship of opulence, Azalea Cruises with family rooms for 3 and 4 people ensure a family to have a happy voyage both aboard and ashore. It offers the nicely-furnished rooms and elegant details as the ritzy floating resort for both kids and adults. The Azalea Cruise has 20 cabins with ocean view and private balcony, of which each cabin size varies from 28 square meters to 56 square meters. So, opt for the family room that can accommodate 3-4 passengers with ease. The eminent amenities include the beauty spa, mini-bar, music, bathtub, theme party on request, and more. It's also easy to celebrate your family anniversary, birthday, or any family party on board. In other moments, relax with the Tai Chi morning session, cooking class, night squid fishing, movie/board games, etc. The Azalea Cruise runs the itinerary of 2 days 1 night or 3 days 2 nights for adventures on the water, inside the caves, and in the villages. Upon your arrival at Azalea Cruise lounge in Got ferry, start the journeys toward the top sites of Da Chong Islet, Duck Islet, Cat Ba Island, Coc Ngoi Islet, Trung Trang Cave, Frog Lake, and Viet Hai Village.
>>Affordable Azalea Cruise 2 Days 1 Night from $202
#6.Four-Star Peony Cruise for Family in Lan Ha Bay
What's more, Peony Cruise with family rooms for 3 and 4 people is recommended as one of the best Lan Ha Bay cruises for family. On this floating hotel will take you and the loved ones across the breathtaking attractions while the onboard accommodation is cozy and sufficient. Launched in October 2018, Peony Cruise is ranked 4 stars, with the well-furnished cabin, private balcony, and panoramic window. You can select the family cabin of 45 or 50 square meters to treat the family with the relaxing settings. The embedded facilities are the spa, restaurant, bar, comfy benches. What also sets Peony apart from the others is the attractive itinerary, away from the bustling corners. The cruise is open for the 2 days 1 night, 3 days 2 nights, or upon guests' requests. It takes you and your family members to the spectacular Da Chong Islet, Duck Islet, Gia Luan Islet, Cat Ba National Park, Ba Trai Dao Beach, Dark Cave & Light Cave, Kim Giao Forest, Trung Trang Valley, and Trung Trang Cave. Just like a big red peony flower on the sea, this cruise escorts you to the best corners of Lan Ha that you soon become its fan.
>>Competitive Peony Cruise Lan Ha Bay 2 Days 1 Night from $150 only!
Best Budget Cruises in Lan Ha Bay
#7.Cat Ba Sisters Cruise in Lan Ha Bay
If budget is your concern about a cruise vacation, the top pick should be Cat Ba Sisters Cruise, which costs from USD127 per person for 2 days tour. It is the 3-star and small wooden junk for the cozy and comfortable overnight stay as well as the great sailing and sightseeing experiences. This is the budget choice for almost everybody to experience the longing voyages across the breathtaking islands and islets. While the cabins are just cozy, the attractions to see are great, namely Cat Ba Island, Lan Ha Bay, Monkey Island (Dao Cat Dua), Ba Trai Dao Beach, Ben Beo Floating Village, Hang Ca Area, and Cat Ba National Park. In each destination, fun and laughter are just boundless. Along with the top places of interest, there will be time to sail towards the local fishing farm and house for cultural experiences. Another fantastic idea is to begin hiking to the observation tower (easy hike) or mountain trail (hard hike) for the beautiful panorama of Cat Ba National Park as well as Lan Ha Bay. And, one score that guarantees the pleasant stay on board Cat Ba Sisters Cruise is the well-trained and supportive crew.
>> See details of Cat Ba Sister Cruise Trip 2 Days 1 Night from $127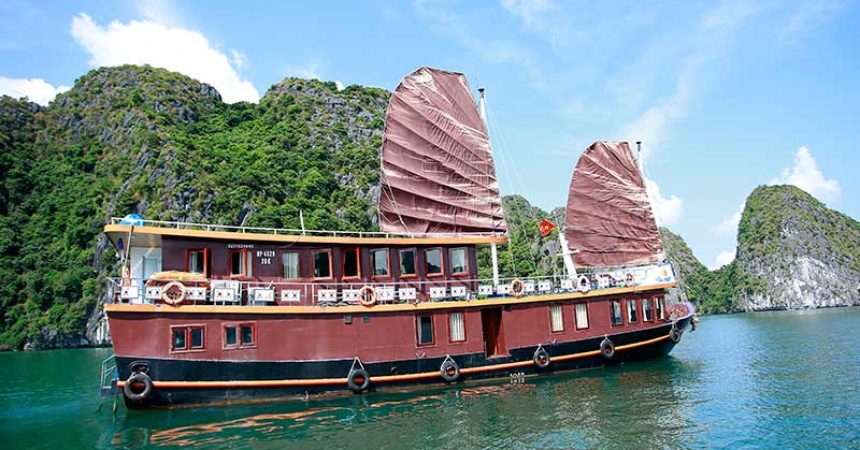 #8.Cat Ba Sailing Junk in Lan Ha Bay
Consider Cat Ba Sailing Junk (from 150 USD per person for 2 days tour) as your ideal budget choice to set sail along and around Lan Ha Bay. It's up to you to experience the overnight stay on Cat Ba Legend (2 cabins), Cat Ba Princess (2 cabins), Cat Ba Prince (2 cabins), or Cat Ba Imperial (4 cabins). Highlights of the Cat Ba Jonques voyage cover Lan Ha Bay, Ba Trai Dao Beach, Ong Cam Bay, and the CA tunnel. It is not about luxury, but budget and excitement. The good sailing junks are of 3-4 stars that are suitable for the family, groups of friends, and couples to try cruising and seeing how it is different from any overland tours. The comfort aboard is enough while the off-the-beaten-track destinations are beautiful and scenic for the maximum sightseeing. You can even charter any of Cat Ba sailing junk for your family travel; if going with a group of 6-8 passengers, it's a smart budget choice to charter the whole cruise. This way, you pay least for the top privacy, resulting in the fact that this is among the best budget cruises in Lan Ha Bay.
>> Go to Cat Ba Sailing Junk 2 Days 1 Night from $150
Biggest Cruises in Lan Ha Bay for Group Tours
#9.Indochine Cruise in Lan Ha Bay
The grand Indochine Cruise with 43 cabins (Junior Suite, Suite, Executive Suite, President Suite, and Family Triple) makes voyages easier than easiest. This 4-star steel cruise can streamline your voyage with top things, from the happy boarding to the food and drinks so that you enjoy more and freer time for sightseeing or doing whatever you like. Until June 2019, Indochine Cruise is the largest and newest cruise for the overnight tours in Lan Ha Bay.  Its architecture and decoration are made for the noblesse life of the Indochina region during the early 20th century. All cabins are decorated in the synchronous styles. Also, make sure to enjoy the two luxurious restaurants, Cochinchine Lounge, bar, fitness center, spa, gym, and more. Highlights of the Indochine Cruise itinerary include Van Boi Beach, kayaking, Tai Chi, Dark and Bright Cave, biking on Viet Hai village, Vietnamese food, happy hours of wines, relaxing on the sundeck, squid fishing at night, and so on. Indochine Cruise will move deeper into the gorgeous, laid-back Lan Ha Bay area – a new tropical paradise, so that you fully discover via the 2 days 1 night or 3 days 2 nights packages.
>>Discover Indochine Cruise 2 Days 1 Night Tour Package from $195 now!
#10.Sealife Legend Cruise in Lan Ha Bay
Sealife Legend Cruise is another top member in the family of the biggest cruises in Lan Ha Bay for group tours. This is the latest member of Sealife Group with 27 cabins, of which each is designed due to the intertwining between Ying and Yang concepts. The extraordinary components for the upscale experiences include cooking demonstrations, Navy Club live music, Jacuzzi, spa, and restaurant. Staying overnight on this state-of-the-art Sealife Legend Cruise, you enjoy the uninterrupted sightseeing via panoramic windows and private balcony as well as the spacious sundeck. Other top activities are the morning Vovinam class, kid's playing grounds, mini gym, squid fishing, swimming, kayaking, and bamboo boat rowing. Groups of vacationers will appreciate this chance of breather so much. The enormous cruise serves the itineraries of 2 days 1 night or 3 days 2 nights, including the must-see attractions and the must-do activities, for the special voyages together with the loved ones. If you enjoy the size, this is a gigantic choice to have almost everything at hand. Especially, don't miss the short cruise to Hollywood blockbuster – Kong: Skull Island filming combined with other top attractions.
>>Explore Sealife Legend Cruise Lan Ha Bay 2 Days from $172!
Cruising in Lan Ha Bay is the fantastic experience that everybody should always experience once. The onboard games and accommodation can keep you entertained so much while the arrival at each destination inspires infinite excitement and inspiration for any next cruise trips towards the pristine and gorgeous Bay. You will find the wonderful beaches for swimming and kayaking, the pristine islets and age-old limestone caves for off-the-beaten-track discovery, and the idyllic fishing villages for cultural experiences. Both the times aboard and ashore are refreshing and memorable almost every second. Pick your trip among 10 Best Lan Ha Bay Cruises and contact the local specialist at lanhabaycruises.sales@gmail.com to get best prices now!
I love traveling and have been working in tourism industry since 1996. Vietnam is my homeland so I would like to share with you my experience to discover this destination best!