Ylang Cruise Lan Ha Bay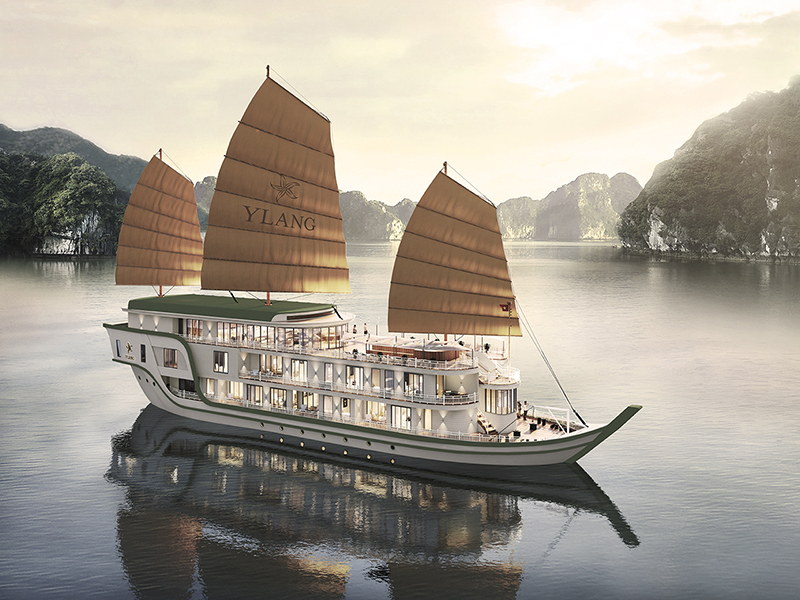 Named after a rich floral-scented plant which is soothing emotionally, Heritage Line Ylang Cruise Lan Ha Bay  serves as one of the eminent vessels to beautifully sail around and along the untouched Lan Ha Bay Vietnam. The cruise itself is an art of Indochina designs that can blend well with the placid, captivating seascape in the "hidden Eden" – Lan Ha Bay which owns similar beauty of the famous Halong Bay, yet smaller and less crowd.
About Ylang Cruise in Lan Ha Bay Vietnam
Launched in August 2019, Ylang is the latest luxury cruise of the Heritage Line fleet in Lan Ha Bay. This latest member is characterized by the combination of Vietnamese art and French-colonial chic. The elegant floral leitmotif evolves from the local poetry and four-season inspiration. The cruise is also beautified by paintings and artworks across its corners while each suite has the flower representing the Vietnamese season. The decoration can soothe people's mind, resulting in a pleasant accommodation. Ylang has 10 suites on two decks, and each suite is designed to receive full natural light thanks to the panoramic windows and private balcony.
Top services on Ylang Cruise are the spa treatments in the spacious area that everybody should always enjoy. Together with Tai Chi practice, meditation is a unique service. You can also find joy in the library lounge, restaurant, bar, and pool on the terrace deck. The entertainment is so great that you can choose to just overlook the charming Bay, drink at the bar, take care of your skin, etc., while it's sailing to the natural attractions of Lan Ha, from which you will embark and begin an explorative trip.
Ylang Cruise Lan Ha Bay Itinerary
Ylang Cruise Lan Ha Bay is dedicated to the 3-day 2-night program cruising the calm and pristine water. The first cruise trip has been run in August 2019 and received excellent comments, which guarantee any next voyage of the same or beyond quality. The "Senses of Lan Ha" itinerary is exactly what nature lovers need to accommodate 2 nights on the premium cruise and enjoy the island escape to the fullest. Here is how it might please you.
Day 1: Tuan Chau Marina – Cat Ba Island. You will arrive at Heritage Line's welcome lounge at Tuan Chau Marina and then take a speedboat transfer to Ylang Cruise. It will sail to the water body of Lan Ha Bay and Cat Ba Island. There will be time for outdoor activities like swimming, kayaking, and hiking in the remote sites. Meanwhile, appreciate your opportunities to have lunch on board, tour around the cruise, check its facilities, and tell how you feel. Take a short rest before it will reach a little lagoon on Cat Ba Island in which you might try cycling in the peaceful Viet Hai fishing village. When you're back, enjoy sundowners or any other health benefits. Later, the delicious dinner will be followed by a relaxing nightlife. Just sightseeing the starry night or cherishing serenity of this surreal seascape can bring you peace of mind.
Day 2: Cat Ba National Park – Lan Ha Bay. The early morning Tai Chi practice is a perfect way to fill yourself with positive energy. You will visit Cat Ba National Park, meet the wildlife, and enjoy short trekking through the age-old forest. After the lunchtime, Ylang will sail to the stony labyrinth of Lan Ha Bay and its remote beaches for swimming and kayaking. Photography opportunities are infinite, and this is your free and easy journey. Later, have dinner and unwind by trying the "Singing Bowl Meditation" ceremony if interested.
Day 3: Lan Ha Bay – Tuan Chau Marina. Begin another day with Tai Chi practice, and then conclude Ylang Cruise Itinerary with more moments of morning swimming or kayaking in the serene water. The next minutes are for breakfast, further sightseeing, and then bid your farewell to both Ylang crew and Lan Ha Bay.
Let give Ylang Cruise Lan Ha Bay a chance to serve you, and see how beautiful it is!
I love traveling and have been working in tourism industry since 1996. Vietnam is my homeland so I would like to share with you my experience to discover this destination best!