Maya Cruise in Lan Ha Bay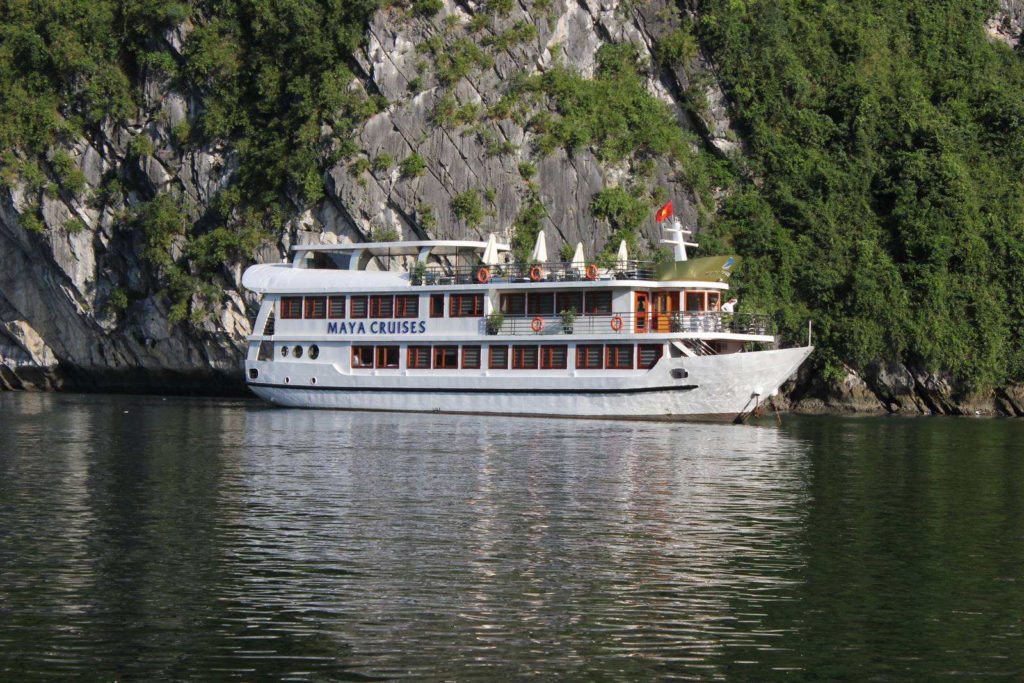 Collect a world of countless stories as you sail from island to island of Lan Ha Bay on the 4-star Maya Cruise Lan Ha Bay – one of the top floating hotels in the 4-star arena. The amazing discoveries will fill every moment of your Lan Ha Bay cruise trip – both onboard and on the destinations of fishing villages, islands, or caves. The lovely Maya will escort you to the untouched and bewitching Bay, sailing away from the crowded corners and heading to the peaceful zones only.
About Maya Cruise Lan Ha Bay
Launched in 2017, Maya Cruise is one of the latest vessels that serve the explorative voyage to the hidden corner of Lan Ha Bay. It meets the 4-star international standard. It was designed and built by the reputable shipyard in Hai Phong that did a great combination between Vietnamese traditional style and French architectural look. Especially, the cruise is equipped with highest safety standards of sonar and radar. The cruise owns 11 cabins that are made to boost the senses of luxury and comfort to meet all guests' expectation. The furnished rooms and modern facilities promise you to stay comfortable and closest to nature. Each cabin is connected to the specific play yard that keeps you entertained and happy. You can choose to stay in nicely-furnished rooms, from 25m2 (Ruby room and Sapphire room) to 28m2 (Diamond room).
Some of the noteworthy facilities onboard including the 24-hour bar, coffee makers, oversized work desk, splendid decoration items, spacious sundeck, modern alarm devices, smoke sensor, and more. Also, the inviting itinerary plus various exciting activities like visiting fishing village, kayaking, go fishing with locals, and discovering caves perfect the journey on Maya Cruise – an entity with a beautiful name derived from Arabic characters, of which "Maya" means "Mother" or who gives protection, love, and peace to people.
Maya Cruise Itinerary in Lan Ha Bay Vietnam
Sailing to Lan Ha Bay, the typical itinerary might take place within 2 days 1 night or 3 days 2 nights or you can even customize it; that's wonderful! From the enjoyable visit to the ancient fishing village to a wide range of water activities on the emerald sea, your favorite Lan Ha Bay memories might last even a lifetime. See how the Maya Cruise Itinerary might go on pleasing you.
Day 1: Hanoi – Lan Ha Bay. You can use the pick-up service to move from Hanoi to Got pier at ease (following Hanoi – Hai Phong expressway), around 09:00. Then, be ready to embark Maya Cruise that is there waiting for you. Enjoy the welcome drinks and cruise briefing which signal the fascinating expedition that you can be confident to expect. Later, it will escort you through Da Chong Islet in which you can see the French-built lighthouse over 100 years ago. During your lunchtime, it will sail to the placid Tra Bau area Vietnam that is perfect for kayaking. Or, you can just simply soaking in the transparent water or enjoying a cocktail on the floating site. In the late afternoon, join the cooking class until the delicious dinner and happy nightlife onboard.
Day 2: Lan Ha Bay – Hanoi. Practice Tai Chi on the sundeck in the early morning and have a light breakfast. Move to a bamboo boat to access Bright & Dark Cave (Hang Sang Toi), take great photographs, and contemplate the naturally-crafted scenery.
For the 3 days 2 nights package, you will have a further discovery of Viet Hai Village which is charming and traditional, and Ba Trai Dao beach – a quiet and spectacular beach to unwind. What's more, you can tailor the program, tell the tour operator, and they will handle the rest to make the on-the-paper itinerary the real stories and happy experience as you are pleased with overnight Maya Cruise Lan Ha Bay .
I love traveling and have been working in tourism industry since 1996. Vietnam is my homeland so I would like to share with you my experience to discover this destination best!