Ginger Cruise Lan Ha Bay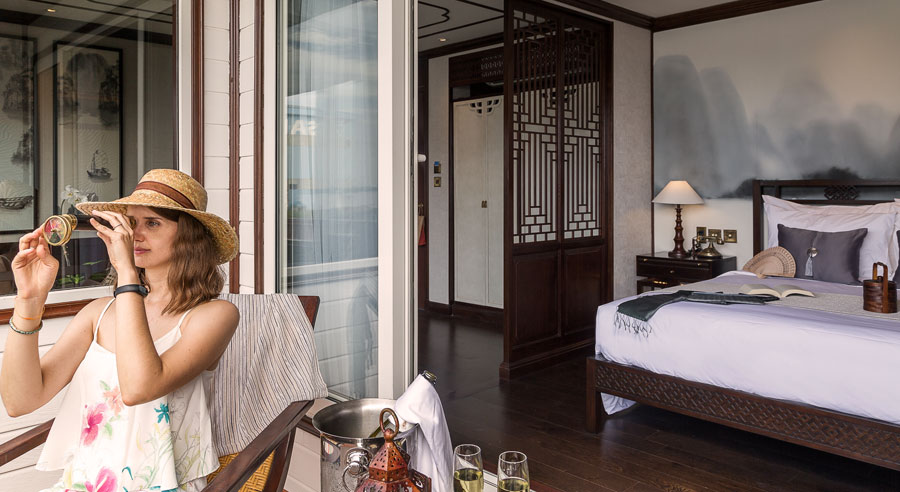 You can be your best version during and after a relaxing voyage on Ginger Cruise Lan Ha Bay sailing to the stunningly pristine Lan Ha Bay Vietnam. As a new member of the reputable Heritage Line, the Ginger Cruise is modern, beautiful, spacious, and proud enough to bring nature lovers to the untouched Lan Ha Bay in the most satisfactory way. With nearly 400 islets and islands of beauty, plus 139 secluded beaches, this Bay guarantees the spectacular sightseeing and vacation while the 5-star cruise ensures your onboard comfort.
About Ginger Cruise Lan Ha Bay Vietnam
Launched in 2018, Ginger Cruise Heritage Line is operated by the famous Heritage Line and is one of the newest vessels sailing in Lan Ha Bay. It includes 12 spacious suites, with private balcony and high-quality furniture. The sizes of the suite are large enough to keep your stay easy and comfortable. While the Junior Suites and Signature Suites are 37m2, the Regent Suites (Blue Phoenix and White Crane) are 50m2. Each kind of suites is made in different themes, but the amenities are sufficient enough to secure a comfortable kinglike accommodation. The life of luxury and comfort is certainly enjoyable in Lan Ha Bay Ginger Cruise.
The interior highlights include the warm timber floors, marble bathroom, distinctive design themes of Northern Vietnam combined with contemporary characteristics, and the pool on the terrace deck. You can also entertain at the bar, live cooking area, library lounge, and VIP or Lady Ginger Spa. In particular, it is wonderful to treat your skin nicely with the refreshing spa treatments and the steam bath while the eyes are beautifully pleased by the glass windows overlooking the Bay. The life on board is so relaxing and luxurious that keeps you smiling while various activities in the destinations like kayaking, swimming, cycling, discovering caves, Tai Chi session, etc., boost your sense of relaxation.
Ginger Cruise Itinerary in Lan Ha Bay
Ginger Cruise is happy to serve the Lan Ha Bay itinerary of 2 days 1 night that is said to bring you all to the "hidden Eden." A voyage in the serene and stunning waters of Lan Ha Bay offers the vacation of peace and happiness coupled with the appetizing culinary medley. Keep reading to see what event to expect on each day.
Day 1: Tuan Chau Marina – Lan Ha Bay. Upon your arrival at Heritage Line's welcome lounge at Tuan Chau Marina, take a speedboat transfer to the 5-star Ginger Cruise. The unique island escape will begin! You will sail to the core areas of Lan Ha Bay and Cat Ba Island. While cherishing the marvelous picture of Nature, you can have lunch, relax on the terrace deck, take a good rest in your spacious cabin, or do whatever you love. You will then reach a pretty lagoon in Cat Ba Island, Viet Hai fishing village, Cat Ba National Park, and some local workshops. After the expedition, get back on board for happy dinner, scenic sunset view, and exciting nightlife.
Day 2: Lan Ha Bay – Tuan Chau Marina. The early risers can get entertained by Tai Chi session on the terrace deck and the light pastries. Next, Ginger Cruise will anchor at Frog Lake for your morning excursion and kayaking amid the isolated, beautiful seascape. On the tree-topped islets, you feel it free and fresh to enjoy this escape to the fullest. After some relaxing moments, return to the cruise for sailing back to the welcome lounge at Tuan Chau Marina. Bid your farewell to Lan Ha Bay and just ease on comfy beds.
On the 1920s Indochina-style design, Ginger Cruise Lan Ha Bay, all vacationers will stay so joyful and lighthearted that might urge them to think about the next trip to Lan Ha Bay again, with more days and nights. Just contact the tour agent and check if you can tailor the program to your preference. Set sail for Lan Ha Bay!
I love traveling and have been working in tourism industry since 1996. Vietnam is my homeland so I would like to share with you my experience to discover this destination best!