ERA Cruises Lan Ha Bay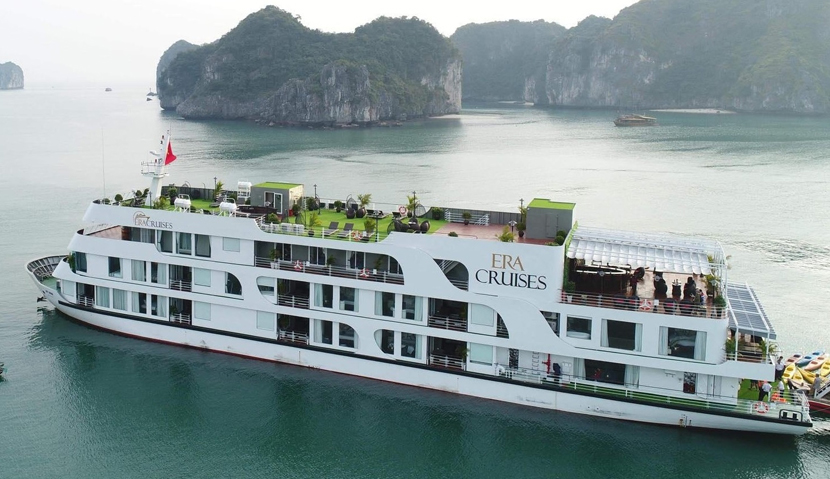 To answer a query if it's worth a cruise to Lan Ha Bay, Era Cruises absolutely agree that it's worth. The friendly charming Lan Ha Bay is a quieter yet still beautiful cruising alternative next to the glorious Halong Bay. Let's say you feel like exploring this sublime laid-back Bay, and unsure about the vessel to board, just draw your focus to the 5-star Era.
About Era Cruises Lan Ha Bay
Launched in July 2017, Era Cruises are one of the latest and most luxurious cruises that run on Lan Ha Bay pristine routes. Era Cruises are the 5-star, which is large, sumptuous, and enough-facilities that meet the high-end passengers' expectations. The cabin system is smartly designed by the Dutch professionals to become its scores. The steel vessels of Era own the modern and ritzy design with impressive furniture, plus the gym, mini-golf course, medical center, restaurant, and bar for the experiences of a lifetime. While the cruise wins interest, at first sight, its interior upon your boarding will please you with the elegant setting combined with the super-duper services of the 5-star standard – one of the best luxurious vessels in the placid Lan Ha Bay. Its exceptional characteristics also lie in the special cruise packages through the enchanting beaches, pristine vista with hundreds of islets and islands, Viet Hai fishing village, Sang-Toi cave, Ba Trai Dao Beach, etc.
Each Era Cruise is designed with 18 cabins, of which the smallest is 47m2 (Terrace Suite) and the largest is 74m2 (Era Suite) including bathroom and balcony. The Cruise can serve 56 passengers, 21 staff, and 7 sailors. Besides, it gets equipped with facilities to serve the prestigious life such as 30-inch LED TV, internal telephone, massage, beauty care, bar, restaurant, sundeck, safe, etc. Upon requests, people enjoy the cooking session, Tai Chi practice, or even squid fishing. Each cabin has an open design, which stimulates the nature-friendly look and feel. This is surely a go-to Lan Ha Bay cruise for you to sail around and along the bewitching natural destination.
Era Cruises Itinerary
The price of the Era Cruises Itinerary varies due to your choice of either including shuttle bus Hanoi – Got pier – Hanoi or not. Here is a glimpse of the sample itinerary of 2 days 1 night:
Day 1: Hanoi – Lan Ha Bay (L, D). Around 09:00 AM, the shuttle bus will pick you up in Hanoi to drive to Got pier (following Hanoi – Hai Phong Expressway). Around noon, you will arrive at the pier to embark the Era Cruises and enjoy the warm welcome from the staff. Later, your cruising target is Lan Ha Bay, and when you sail to the core of the area, take time sightseeing the attractions of Hon Da Chong (where you can see the over-100-year-old French lighthouse), Cua Van fishing village, and Ba Trai Dao Beach. The fascinating beach urges you to swim and enjoy kayaking. There will be entertainment programs like cooking on the sundeck. Be free to unwind with cocktails and food.
Day 2: Lan Ha Bay – Hanoi (B, L). Get up early to watch the sunrise over Lan Ha Bay, do Tai Chi practice, and welcome a fresh day. Enjoy a light breakfast, and then sail to Sang-Toi cave for an exciting expedition. Later, pack your stuff for a trip back to Hanoi. Of course, today will enrich your photography and sightseeing opportunities.
For the Era Cruises Lan Ha Bay with 3 days 2 nights program or more, it offers an extra to traditional Viet Hai Fishing Village, Ba Ham Lake, and other attractions. Of course, the Era Cruises Itinerary can be customized according to your preference and budget. Generate your tailored-made itinerary to Lan Ha Bay if you come up with any ideas!
I love traveling and have been working in tourism industry since 1996. Vietnam is my homeland so I would like to share with you my experience to discover this destination best!