Azalea Cruise Lan Ha Bay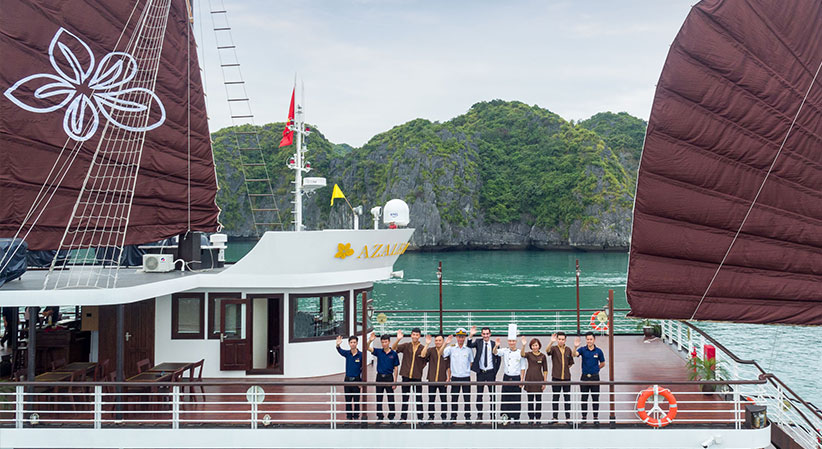 While Lan Ha Bay is a precious property of Nature, Azalea Cruise Lan Ha Bay is the 5-star ship of luxury and comfort, which together ensure holidaymakers to have a voyage of a lifetime. In the playfield of luxury cruises, Azalea Cruises are the elites with beautifully-furnished rooms and chic decoration in each detail, and more. In general, it looks as precious as a world-class floating resort that sails along and around the spectacular natural destinations.
About Azalea Cruise Lan Ha Bay Vietnam
The Azalea brand has two cruises; the first cruise was launched on 01 November 2017 while the second cruise came into operation in 2018. There is a total of 20 cabins per boat, with the private balcony and scenic ocean view. The Azalea cruises are dedicated to sailing on Halong Bay – Bai Tu Long – Lan Ha Bay route, for 2 days 1 night or 3 days 2 nights. Regarding its cabins and suites, the size can vary from 28m2 to 56m2; each is chic and convenient to boost your maximum satisfaction.
Some of the noteworthy amenities on the Lan Ha Bay Azalea Cruises include the mini-bar, music entertainment, bathtub, beauty spa, theme party on request, conference & meeting facilities, etc. The full support of services and facilities on the board makes sure that this boat is competent for celebrating some meaningful events like wedding anniversary, honeymoon, birthday, sunset party, and even the wedding ceremony. You are all encouraged to relax by a variety of activities both on the board and on the tourist spots namely islands & caves discovery, kayaking, swimming, cooking class, Tai Chi morning practice, night squid fishing, and movie/entertainment/board games.
Azalea Cruise Itinerary in Lan Ha Bay
How are days and nights going on Azalea Cruises? The Lan Ha Bay itinerary of 2 days 1 night or 3 days 2 nights will aid you in drafting your expectation about the adventures on the water and in the cave. With nearly 400 islands and islets plus 139 smooth sand beaches, this poetic Bay is rich in the attractions to see, and the 5-star opulent cruise is surely the best tourist means of transport.
Here is how the program like.
Day 1: Hanoi – Azalea Cruises (L/D). Around 10:00 AM, start the pick-up van from Hanoi to Got pier (Hai Phong province). Around noon, you will arrive at the Azalea Cruise's lounge. Take a transfer to the 5-star Azalea Cruises, do the check-in, get the welcome drink, and receive cruise briefing & safety instructions. It will first sail to the area of UNESCO-listed Halong Bay, and then some breathtaking sites of Da Chong Islet, Duck Islet, Cat Ba Island, Thoi Quyt area, Coc Ngoi Islet, Trung Trang Cave, and Kim Giao forest. Later, you will get to the less-visited Tra Bau area of Lan Ha Bay which is famous for emerald and clear water to go swimming and kayaking. After that, return to the cruise for meal and entertainment on the board for a happy evening.
Day 1: Azalea Cruises – Lan Ha Bay – Hanoi (B/L). Be an early riser to do the healthy Tai Chi session on the sundeck. The breakfast time will be followed by an exploration to Ao Each (Frog Lake) via kayaking. You will discover the hidden corner of the Bay and enjoy its serenity. Around 9:30 AM, get back to the cruise, pack your things, have lunch, and be ready for the trip back to the Got pier from which the private car will take you back to Hanoi.
For those that prefer the 3 days 2 nights program, it will shower them with more relaxing time in the opulent cabins as well as more free kayaking and more cruising experiences that you become free from stress. The 3-day itinerary includes the ancient Viet Hai fishing village for a memorable biking trip. What else do you want for Azalea Cruise Lan Ha Bay Itinerary; just let the tour agent know and they will value your ideas!
I love traveling and have been working in tourism industry since 1996. Vietnam is my homeland so I would like to share with you my experience to discover this destination best!